Book campsites near La Ferme de Prunay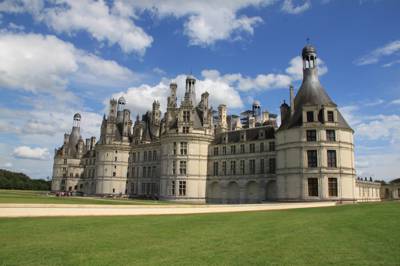 Campsites in Loir-et-Cher
Campsites in Loire Valley
Available:
10 Pitches
2 Safari tents
2 Camping bungalows
Available:
7 Pitches
7 Safari tents
3 Cabins
...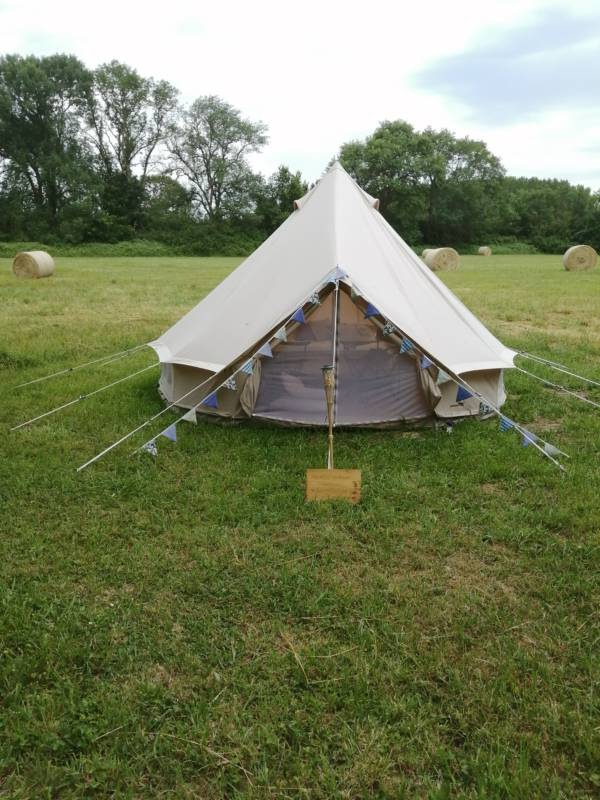 Glamping in Sarthe
Glamping in Loire Valley
Camping on the farm a short ride away from the Loire Valley's picturesque rivers and grand castles
Gazing at the turrets and gleaming towers of Azay-le-Rideau, Villandry, or Valençay, which are so picture-book pretty they look more like Disneyland Paris than la vraie France, it's easy to forget that not all of the chateaux decorating the Loire Valley exemplify state-of-the-art Renaissance luxury. Chinon, by contrast, is a fortress, all practical purpose and no frippery, while Amboise was heavily defended long before François I made it a centre of culture and learning and invited Leonardo da Vinci to add his genius to the court. The chateau at Blois (like Amboise, it's no more than 20 minutes' drive from Ferme de Prunay), was also built with defence in mind, a reminder that this region was fought over for many centuries, not least by the English.
Ferme de Prunay looks perfectly peaceful now, but the farm originally formed the core of a Gallo-Roman fortified village. The ancient moat that curls around two sides was built to keep marauders out, but now it provides a gentle afternoon's fishing practice. Similarly, when the owner, Michel Fouchault, dug out the swimming pool, he unearthed many graves and bones, but hopefully that won't bother campeurs as they dive into the heated piscine. Traditions run deep here, but it's perfectly safe and calm now: the farm has been in the Fouchault family for six generations, and Fouchault fils plans to continue the tradition, so you can make advance bookings in confidence.
Beyond the floral borders of the site they cultivate 494 acres (200 hectares) of cereal crops, and that feeling of spaciousness extends to the enormous pitches, some of which are big enough to accommodate a car, a caravan, and a few badminton courts. There's never any danger of feeling hemmed in between caravans and motor homes here, and there's a real variety to the pitches, too. The French tend to prefer privacy; they like their own space, with hedges and trees around them. The Dutch, who live in a relatively small, crowded country, like the freedom of open space and expansive views, so they usually opt to be next to the fields. As for the British, well, they may go for one or the other.
Many of the pitches have their own plum or apple trees, which campers are welcome to plunder, or you can join the Dutch overlooking a huge bank of wild flowers (planted to attract butterflies and bees) and the open fields. Those who choose the views should know that their freedom comes with a price tag, as they're further away from the wash-block. But it's worth it; a blooming horizon is wonderful to wake up to.
The Ferme de Prunay also operates as a ferme pédagogique, or teaching farm, with school visits off season. Those opportunities continue throughout the summer, so children and their parents may learn how corn is ground and how to bake bread, for instance, or go on guided local walks, which may pass by a local goat farm or vineyard, with opportunities to buy the wine, cheese, and honey. This could be a model campsite, as they get so much right. The bikes around the site are all free to use, as is a fridge, cooker, the pool, and sports and leisure amenities.There are also volleyball and basketball areas and acres more space to play in front. It's an easy-going place, especially for families. Kids really love the tractor-train rides and walking up the forest path to see the animals – take your pick from pigs, rabbits, chickens, donkeys, goats, turkeys, and a horse. Meanwhile, just 6 miles (10 km) away, is the turreted wonder that is Château de Chaumont and some of the finest grand Loire chateaux and gardens are but a short drive in every direction.
Details
Facilities
The wash-block has the option of family shower rooms and disabled access. The well organised site has welcome letters and information in English, French, Dutch, and German. The café-bar is open from 8am (for bread and croissant deliveries) until 9pm and also sells ice creams, basic bar food, and pizzas. There are tractor-train rides around the site (high season), animal petting and kids' play areas, table tennis, volleyball court and basketball areas at the front of the site, which is where (supervised) campfires take place. A new heated swimming pool and an indoor room with games for toddlers.
Suitable For
Tents, campervans, caravans, and dogs (on leads) all welcome.
Nearby
There are discount vouchers available on site to get into many tourist locations in the Loir-et-Cher département, including the wonderful chateau at Blois (0033 254 90 33 32) 10 miles (16 km) away, where Joan of Arc was blessed in 1429 before she left with her army to drive the English from Orléans. The Maison de la Magie (0033 254 90 33 33), a spectacular House of Magic museum, is situated across the Place de la Château from the castle and equally merits a visit. The beautiful town of Amboise is well worth the 20-minute drive along the Loire both for its chateau and Le Clos Lucé (0033 247 57 00 73), the house where Leonardo da Vinci lived his final 3 years, which is now a museum displaying models of his amazing drawings. It's possible to hire canoes to use on the Loire itself, or the rivers Loir and Cher, which feed into it.
Food & Drink
The farm is a member of the regional tourist organisation 'Bienvenue à la ferme' and can recommend many local suppliers, listed in a French brochure, including La Cabinette for goats' cheese in Onzain, 5 miles (8 km) away (which also has the best range of shops locally), or their favourite organic Touraine wine produced at Domaine Château-Gaillard in Mesland, about 2 miles (3 km) from the site. Among the many local markets they recommend those in Amboise on Friday and Sunday mornings on the banks of the Loire. There are many restaurants to choose from in Blois and just about anywhere near the castle is good. Nonetheless, L'Orangerie du Château de Blois (0033 254 78 05 36) really stands out as a special gastronomic treat. In a beautiful building with stunning interiors and a lovely terrace opposite the castle, its menus are from €34.
Open
Late March – early November.
Location
Contact La Ferme de Prunay, Ferme de Prunay, 41150 Seillac, Loir-et-Cher, France
Getting There
From A10 take the Blois exit, then follow directions for Angers and Château-Renault until Molineuf, then follow signs for Chambon-sur-Cisse and then Seillac on D131, where you'll pick up the roadside signs to Ferme de Prunay.
Reviews
Add Your Review
Rated ★★★★★ over 17 reviews
Brilliant
We returned to this campsite after our last visit three years ago because we enjoyed our stay so much. It did not disappoint the second time around. A great family run campsite with a lovely comfortable feel about it. My children aged 7 and 9 loved the pool, playground and bouncy castles. Will be back again next year.
Brilliant relaxed campsite
We stayed here in mid-august for 5 nights on the way down south and we and the kids (6 and 4) loved it! Can't recommend it highly enough! It strikes a really good balance between having all mod cons (nice facilities, small bar area by the pool, with pizza etc, etc) and lots of activities for the kids (nice - if cold! - swimming pool, animals, table football, table tennis) and retaining a really relaxed feel. Didn't feel at all like the large commercial sites. The staff are really friendly and helpful. It is a bit on the large side (~130 pitches) but didn't feel at particularly busy or hectic even in peak season. Pitches are nice and large. Some shaded; some not. Take a substantial hammer - the ground was rock hard!
What a brilliant site
Loved this campsite as did the kids (9 and 5). Friendly and welcoming, peaceful, clean, well organised. Great activities, well placed for cycling outings, loved being able to pick the fruit. Good location for blois and chateaux days out. Would love to go again. Perfect for families with young kids and anyone keen on cycling or castles. Love it
Lovely peaceful campsite
Lovely small campsite, with lots of privacy on the pitch. We spent a very peaceful night here on our journey down to the Dordogne. We did not explore beyond the campsite, or even get to visit all the animals, but loved the campsites pool and play park. The kids enjoyed meeting the puppies and kittens.
Bursting at the seams
This is a beautiful campsite with shaded, private pitches, amazing views of the surrounding countryside and well set up for small children. However, it felt like a victim of its own success. The facilities can not cope with the sheer number of pitches that have been added. The pool was overcrowded to the point of being dangerous and too small to stretch out and swim as an adult. It is essentially a plunge pool for children which is densely packed at peak times. Forget ever swimming as an adult! The bins were a disgrace and were not emptied once during our two week stay. The recycling facilities and bins were both overflowing by the end - "nature" it was not! There was only one washing machine for the whole campsite which was woefully inadequate. Our children however loved it. The activities arranged for them were wonderful and there were puppies, kittens, goats, donkeys and horses etc to play with. They were safe and happy and would love to go back (leaving the puppies was especially traumatic!) In our opinion, they either need to reduce back down to scale with their infrastructure to protect the experience of those who are staying, or invest in a bigger pool, better washrooms and more washing machines. As a small site, it is perfect. The upscaling has not worked.
Warm welcome, gorgeous campsite
We arrived late-ish in the evening. We booked via Cool Camping - probably worth doing this more than 12 hours in advance (which is what we did). The reception team were very welcoming and our pitch on the outskirts of the campsite was great, with a view across fields and loads of space. This is a lovely campsite, very well equipped, with a strong family-friendly feel. It was really quiet at night. We loved being on the outskirts, with the view and the space, but that meant we were further from the very clean bathroom block - worth noting if you need to get up in the night. Don't forget to book your croissants the day before.
Great site
The campsite is beautiful but unfortunately nothing open during our stay in June (ie bar, shop, restaurant etc) I wouldn't let this stop you going but just remember to buy your food and drink essentials prior to stopping. We stopped on pitch 54 which was huge and private. The kids pool and larger pool was open and my little girl loved it. The playground is amazing for the kids too. Overall we enjoyed our stay but again it would be a lot better when fully open. Receptionist was helpful and the owner.
Fantastic
My wife and I along with our two boys and our dog have just returned from a holiday at Ferme De Prunay and I can't speak highly enough about it. We do a lot of camping and the pitch is the best we've ever had, it was like being in your own private garden. Plenty to keep the kids occupied and lovely walks for the dog. Great swimming pool, and poolside bar with good food and very friendly staff. We're already planning on going again next year. Marine speaks very good English so there is no issue with the language if you only speak little or no French. Can't wait to go back.
Hayleym
I booked this site ten months before our holiday and was hoping I had chosen well.  We ended up falling in love with this place and didn't want to leave after 12 nights! The previous reviewer has it spot on. My son made new friends and built up his confidence cycling, swimming and being around animals.  We enjoyed all the activities, even the donkey walk in a thunderstorm will leave us with fond memories.  The owners gave us a guided tour on arrival. 
The washing up area has a viewing window over the play area. Genius!  Facilities are always clean.   My 6yr old son loved the bread making despite it being in French, as it should be.  We also enjoyed a Château visit, a bike ride along the Loire and near the site and also a canoe trip down the Loire.  The pool never felt busy and we always found a free lounger no matter how hot and we did have temps in the 30's.   
Our pitch was huge, partly shaded and close to everything. My son could cycle around the site which he liked.   
I would recommend this site to families with primary aged children. It never felt full or noisy despite how many people must have been there.  Parents have to join in with all the activities which I liked as it meant they were really well behaved and listened to the staff in charge.
I could go on here forever. I think you get the gist. 
Many thanks to Christian, Michel, Dorian and Marine for a wonderful experience.
Wonderful Place, Wonderful People
This summer, my family and I spent an incredible week at Ferme de Prunay. The setting was beautiful. Our accommodation was modern yet rustic (a loggia) set in a private hedged area with plenty of space to find a quiet spot, have a barbecue and enjoy some al fresco dining. Our daughter was able to run around safely and stay within our view. She adored the animals who she walked to say good night to every night. The organised trips were very educational, yet fun and the great thing was that the parents had to be involved and accompany the children in the activities. It wasn't a case of just sending the kids off while you spent the day at the bar. The whole set up was very family orientated.
All the activities are in French, parents act as translators for the children and so long as you did a bit of French at school, you'll get by. Our little girl picked up lots of the language and still hasn't stopped saying "tracteur" in a lovely French accent!
The site is perfectly located for cycle rides through beautiful sleepy villages. The roads are quiet and safe and proposed leisure rides are clearly sign posted. We hired bikes from the site who also provided us with a child seat and we spent a fabulous day exploring the local vicinity.
The camp site is run by a lovely family who have a wonderful way with children and a passion for what they do which shines through. They are also on hand to answer any questions you may have and work hard to make your stay comfortable and enjoyable - nothing is too much trouble for them, they even brought us a parasol for our dog to stay cool outside of our Loggia!
We visited Amboise nearby, where on a Sunday morning, they hold an outdoor market which was great for local food, and a beautiful town to discover. The town of Blois is also a must, aswell as countless Chateaux in the area. Our particular favourite was Chambord, where you would need a day to explore!
All in all a great time was had by all and we would highly recommend this campsite and would love to return in the future. I wish we were still there! 
Thank you to Marine and her family!
Amazing Campsite!
We first stayed here two years ago and had to return as it is one of the best campsites we have ever visited. The pitches are enormous, there are plenty to choose from and most offer decent shade. The feel of the campsite is very relaxed and the staff are brilliant. Nothing is a problem and they make you feel very welcome. 
Our two children are now 11 and 13 and there were loads of free activities for them to join in. A highlight was the donkey walking! The pool is clean and open late, the new Tikki bar has great food including some specialist dining nights, not to mention the fishing and the boat you can take out on the lake. Free wifi and info on the area is also really welcome. The site is in beautiful remote countryside with easy cycling straight from the pitch. Many of the Loire highlights are only a short drive away, including amazing wine Caves which were recommended to us by the owners. My husband needed to visit the doctor whilst we were there and Marine was fantastic in organising this for us, which really helped.
Our two weeks went far too quickly and we are already talking about booking another trip!   If you like relaxed, family friendly camping in the French countryside then I cannot recommend this site enough. 
Fabulous Site
We spent 2 nights on this site and it was not enough !  The pitches are generous and private with much needed shade. The staff are very friendly and go out of their way to make you welcome.  The showers and toilets are clean and have plenty of dry space (not something found in most sites).  The area around is beautiful and rural, the only sound to be heard in the morning was the birdsong.  Our time here was much too short and we would not hesitate to return to this site when we visit the area again.  On both nights we ate at the onsite bistro, the food was good value.  The owners provide plenty of things for the children to do from the animal visits, to daily activities, clean swimming pool.  playground and a dedicated room for them with games, films and books near the bar and bistro. Thanks for a lovely stay!!!
Disappointing
My husband, our 3yr old daughter just returned from our trip to France where we visited several cool-camping-sites. After many good experiences and some that were okay, we found our last station at Ferme du Prunay rather disappointing. I have to say that it was end of season (mid-September) but we found nothing of the things that we read about on the website or even on the movie provided. 
First of all, it is not an (animal) farm. The animals are on a field and (probably, we didn't find it) in a stable a 10 min walk away from the site. We were told we could feed the animals with our own food (as an animal owner, I would never let people feed my animals with random stuff) and take the donkey for a ride by ourselves. 
There was no feeding-the-animals-all-together-in-the-evening.
No tractor-rides. No baking bread or whatever else activities. Kids pool full of leaves and dirty.  We are not the kind of campers who are in animation at all. But what we expected was some farm life, other children running around and being encouraged to join the animals. Instead, there was noone. Some guys hanging around at the bar, dirty bathrooms (first campsite where I couldn't encourage myself to take a shower), for us, all in all a strange atmosphere. 
We drove 8 hours and our daughter was very excited to arrive and see the animals. The next morning we decided to leave. 
The only thing we really liked were the pitches on the field, there's a lot of space and whoever planted all the wild flowers on the site has a sense for gardening. The one of the two playground (one was broken) could be very neat if there would have been any other kids. 
I can't really understand the other reviews, maybe there really is a big difference between staying there in June and September. For us, we defenetely won't return. Too many charming sites out there. 
Response from La Ferme de Prunay
Dear Daniela,
As I explained it to you during your holidays, the activities are only during the school holidays. This information is given on our website. And I mentioned this to you again this information when you arrived at the reception of the campsite.
In June and September, during your holidays, you can go to the animal parc if you walk 5 minutes (250 meters). I explained to you that you can take food to the animals and you can walk your daughter on donkeys. I remember having explained to you that it would be pleasant for your daughter Lucie to open the door of the park to have a better contact with animals, to walk next to her while she rides on the donkeys. In this park, there are goats, poneys,donkies, sheep and a cow.
Then, there were no other children on the campsite in september, it is because children are at school at this period. If you want meet other children during your holidays, it is better to come in summer holidays I'm sure that you can appreciate this information and that you understand.
We would love to receive you again and show you our beautiful farm, come again with pleasure in July or August !
Marine - Ferme de Prunay -
Run with passion and care
We've just spent a delightful week at Ferme de Prunay, and alongside the charm, beauty and relaxed atmosphere of the place, what hit us most from the outset was the absolute passion and care with which this place is run. Marine and her family are omnipresent at all hours working away with a smile and a twinkle in their eyes, and twinkle they might as they have a lot to be proud of!
The children's activities are beautifully planned and run- Marine looks as though she enjoys each one as though it were the first. Tractor rides to feed the animals- with an individual bucket of animal food packed for each and every child- or evening camp fires, where Marine et famille have selected the longest, curving sticks and sharpened them at the ends especially for toasting marshmallows.
Can't find the baby bath in the nursery bathroom? Marine will track it down and deliver with a smile. It is this sort of care and friendliness that will keep people coming back year on year.
Our 2 year old adored it- from the idyllic courtyard with chickens, ducks, dogs and rabbits, to Dorian's tractors, to swimming in the toddler pool or playing with the other little ones in the playground (-which is handlily in front of the washing up area so you can keep an eye whilst busying yourself)- he had a ball. So did we- especially in the peaceful evenings gazing at the moon above the swaying crops.
The only, tiny tiny thing that was not perfect was that the swimming pool is quite small, and does get pretty crowded during the day, but then we were there at peak season, so what more could we expect?
Many more wine tastings to be done in the area- I'm sure we will be back. But be sure to check out Les Vaucorneilles on the wine route in neighbouring Onzain for amazing, organic local wine.

Idyllic Site
Ferme du Prunay is an idyllic site in the middle of nowhere. 
Pros: Very private campsite with lots of bushes and trees; Nice staff and fairly priced (27€ small tent and car in August); Nice bar and pool; Awesome animal park; Quite and peaceful.
Cons: Sanitary facilities have a bad layout and get a bit dirty during the day
Truly wonderful site
We loved this site so much - we could have stayed for weeks. Perfectly situated for visiting the Loire valley but really, you'd be mad to want to leave. It's set in flat yet beautiful countryside - swaying crops and forests; wild flowers and the odd farm dotted here and there - and the atmosphere is completely relaxed. We were worried that the presence of a pool might mean lots of screaming kids and leathery Brits but it was far from it; the pool is in a lovely flower garden, next to a little bar set into an old barn. The pitches are gigantic and are either lovely little tree-surrounded patches or huge open spaces overlooking the fields. There's a space to suit all tastes. There are also some very friendly goats, donkeys, hens, ducks and even a boar or pig of some sort who made us laugh a lot! Great kids' facilities, if you have kids, and best of all were the truly lovely owners who could not have been nicer, friendlier and more pleasant if they tried. (They make outstanding pizza too . . .) An absolute gem and not to be missed. We will most definitely be back. 
Paradise in France
We are very frequent campers in France, we've been camping there for over 12 years, making at least three or four visits per year, and we've checked out most regions. We have two children who are now 12 & 9. We first discovered the Ferme de Prunay by chance, in 2005 when we were visiting the castles in the Loire Valley . I have to say it is the best ever find. If you want nightclubs until 2am, karaoké and beer drinkers - then stay away!
This is a gorgeous family campsite, and the family owners are just gorgeous too. They will go over and beyond to keep their visitors happy. The site is clean and has brand spanking new showers, toilets and kitchen area. The pitches are huge, really huge, even for French 'camping à la ferme' standards, the pool is fabulous for the kids and the activities offered by the family are enough to keep any budding young farmers happy - bread making, tractor rides, visits to feed the animals, goats cheese farm visits, horse rides, camp fires : the list goes on and on and on.. We now visit the Ferme de Prunay on every single camping trip to France, for AT LEAST two nights in order to keep the peace during our family vacation, otherwise we are questioned constantly by our kids as to when we'll be going. But it's not hard going for us parents either. It has the most natural, calm, safe & easy going feeling when you are there, in such a beautiful area of France, so handy for the gorgeous wine and castles. I cannot recommend this campsite enough, 5 stars don't do it justice!