An idyllic, peaceful escape, beautifully thought out and within easy reach of Paris, boasting a wide range of imaginative activities for all ages
Huttopia Senonches is actually one of a number of sites that first came to Cool Camping's attention when we were sloping around the outskirts of Paris visiting their well-located Versailles site. It was such a success that they decided to edge out of their suburban setting and begin a second campsite deep in the French forests of Senonches, an hour and a half west of the capital. Here nature and setting are at the fore, within a spacious encampment in France's second-largest state-managed woodland. Near a swimming lake, and with a great deal of nature-related activity on hand, Paris may be within reach, yet motivation to visit it is in short supply.
Horse-riding, mountain-biking, and hiking are all facilitated, and fishing in the Étang de Badouleau, adjacent to the camp, is easy. The site is car-free and campervans are limited to pitches near the entrance, lending a wonderfully back-to-basics feel. As with all Huttopia destinations, though, the reality is far from basic.
The forethought injected into the site means you'll not be rubbing sticks together for warmth nor searching out the 'soft' leaves. Brand-new, superbly equipped toilet- and wash-blocks are scattered around, and tent pitches are based in their own generous clearing, supplemented with a picnic table. There is a ready-made bivouac and BBQ meeting point, with arranged tables to sit at and socialise.
Activity-wise, nature trails and even treasure hunts can take you through the forest. In high season sport tournaments are arranged, and a weekday morning-club with art and nature-based play keeps children occupied. An evening programme for adults, including story-telling, outdoor cinema, live music, and board games make this a rather special break from the norm.
Huttopia has reserved itself a very secure pitch in the camping world and deserves to be congratulated at Senonches as much as anywhere else. This site illustrates that, while the brand has grown beyond a family concern, it still has the soul and the desire to explore new forms of hospitality. To them, we raise a glass of our finest French vino.
Best Price Guarantee
Easy and Secure, with instant booking confirmation
Trusted for over 10 years
A chance to win a brand new Coleman tent!
Gallery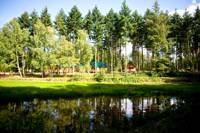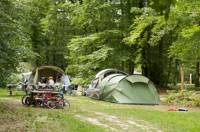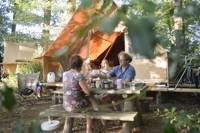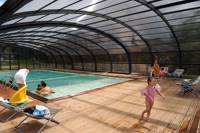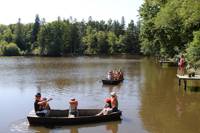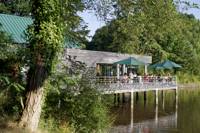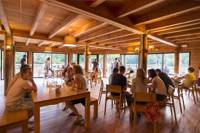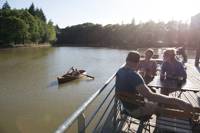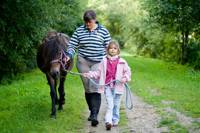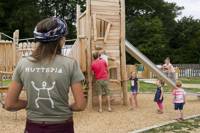 Video Tour
The Owner Says
An idyllic, peaceful escape, beautifully thought out and within easy reach of Paris, boasting a wide range of imaginative activities for all ages.
Reader Reviews
Add Your Review
Lovely peaceful site
Lovely site with cabins in peaceful surroundings. Plenty of space between/around cabins with lovely woodland views. Cabin was modern, well-equipped and with plenty of hot water in the shower. Staff were friendly too! All in all a very relaxing holiday!
No camper vans!
Although it says on the website that camper vans are accepted, they aren't when you ring to book! No camper vans are accepted!