Book campsites near Domaine La Chapelle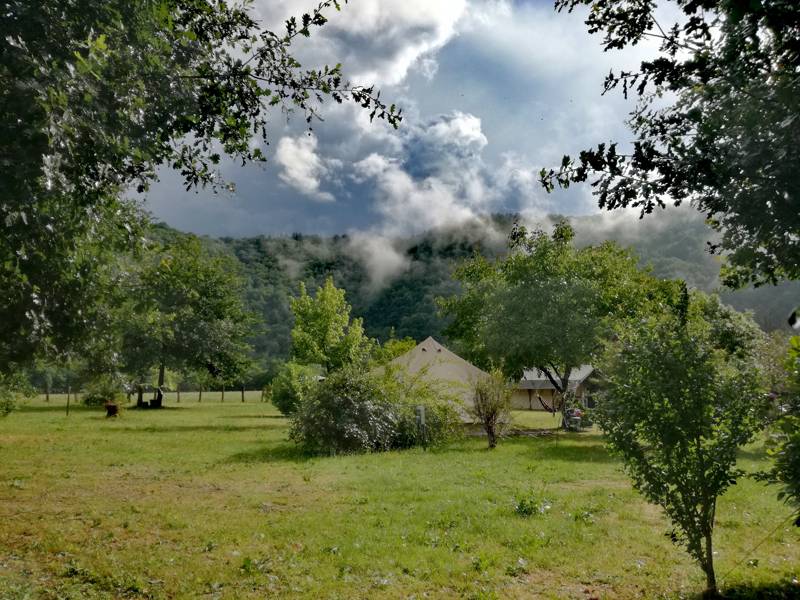 i
Campsites in Corrèze
Campsites in Limousin
Campsites in France
Available:
2 Pitches
2 Safari tents
1 Camping bungalow
Scenery and serenity, perfect camping in the peaceful hills of Limousin
With its vacant valleys, deserted forests and seldom-visited villages, Limousin might just be France's most overlooked region. It's not nearly as popular as the Loire to the north or the Dordogne to the south, but this neglect from tourism only adds to the appeal as Limousin offers something all campers crave – the opportunity to get off the beaten track. Hiding in the region's rural depths sits Domaine la Chapelle; a small, welcoming campsite with only six pitches. Throw in some nearby world-class historical sights, picture postcard villages and endless miles of walking trails, and you've stumbled upon a very cool campsite indeed.
This family-friendly site caters to the canvas contingent and B&B brigade alike, with a selection of apartments, eco-lodges and traditional farmhouses also available. Roland and Angelique are thoughtful owners and have limited their field to only six pitches, so there's ample room for everyone to relax. What's more the facilities (hot showers and proper loos) are immaculately clean, with campers rarely having to queue. As an accomplished chef, Roland takes care of the cooking and specialises in Correzienne cuisine. In the onsite restaurant guests can order fresh bread rolls and croissants for breakfast, whilst a tasty evening feast can be enjoyed on the large terrace, with sweeping views over the hilly surroundings.
When it's time to hit the road again, there are plenty of sights in the vicinity. France's most famous prehistoric cave paintings, Grotte de Lascaux, were sealed for years until discovered in 1940 by four boys out searching for their lost dog. Often referred to as the prehistoric equivalent of the Sistine Chapel, this vast network of chambers are renowned for their artistry, with animal figures depicted in shades of yellow, red, brown and black. A one hour drive north-west will lead you to the grand Chateau de Hautefort. Standing in an enviable position overlooking the Auvézère Valley and Hautefort village, the Chateau is surrounded by incredible French formal gardens and was recently listed as a historical monument.
In the summer at Domaine la Chapelle, children play in the swimming pool or playground, while parents sit out in the sun pretending to keep an eye on them. With these kid-friendly facilities, the site attracts plenty of families seeking a summer holiday. So, if you're after a more mature camping experience then you might find the 'family vibe' here isn't for you, especially during the school holidays. But otherwise, if you're a fan of rambling, horse riding and cycling through unforgettable and often deserted landscapes, you'll be dialling those digits already. Bon Voyage!

Details
Facilities
Sanitary block with 2 warm showers, 2 toilets, and 3 washbasins. 2 washing-up sinks, chemical toilet disposal area and laundry facilities (washing machine and dryer at extra cost). Fridge for communal use with freezer compartment. Swimming pool with different levels, picnic tables, basket area, playground with trampoline for the children, boules court, volleyball/ badminton, table tennis, fitness (extra cost), Wi-Fi access, restaurant with terrace and resident sheep and goats. Bedding and linen is provided in the eco-lodge chalets.
Suitable For
Tents, small caravans and campervans (due to the entrance from the main road) and families – yes. Large groups and dogs – no.
Nearby
Colette Gardens (0033 555 867 535) is an imaginative interpretation of all things floral relating to the French writer, Sidonie-Gabrielle Colette, best known for her novel Gigi. The gardens offer a stroll through literature and botany, presented through a series of six landscapes that reflect the six main regions which marked Sidonie-Gabrielle's life. A wander through the 5,000 m² butterfly labyrinth is a must. From April to October, tickets for Grotte de Lascaux (0033 553 519 503) are sold in Montignac at a ticket office (next to the tourist office); the rest of the year you can buy them at the cave entrance. After a visit here in 1940, Picasso allegedly muttered, "We have invented nothing". Children will love Wizz' Titi (0033 678 195 345), an adventure park where little ones can swing from the trees, practice archery or walk the barefoot path. The charming villages of Collonges-la-Rouge, Turenne, Curemonte and Beaulieu sur Dordogne are all within a 45 minute drive, whilst the Saturday morning market in Brive, is well known in the region.
Food & Drink
Downstairs in the farmhouse the site has its own bar-restaurant. In the morning, breakfast is served here and dinners in the evening, while a lunch menu runs from June to September. The interesting menu changes daily, with a variety of local and international dishes as well as vegetarian options (please inform beforehand). Alternatively you can relax with a drink or ice cream on the terrace, in the bar, or by the fire place. Offsite, the charming little town of Brive la Gaillarde is close by (5 km) and has some excellent restaurants.