Wedgewood Wagon
(8 at Moulin de la Geneste)
A perfect romantic hideaway
The Owner Says
You will find our perfect romantic hideaway for two (plus one if necessary) hidden between the oaks and pines in a secluded spot on the campsite.
Steve has been busy making our Wedgewood Wagon over the last six months and we were finally able to place it on the edge of our small wood in July 2018. The design is loosely based on a Reading Caravan, although we salvaged the wheels and axels from a 1920s French wine cart, it now perhaps more resembles a Shepherd's Hut. All the wood from the build (mostly oak and elm) was cut and seasoned locally from the solid oak chassis to the polished oak floor and beautiful elm worktop, shelves and stairs.
Inside there is a comfortable full size double bed, table and two chairs, small fridge, storage cupboards, electric sockets and lights. A small futon bed can be added upon request. Outside is a well equipped summer kitchen with gas hob, pots and pans and a picnic table.
Our Coronavirus Booking Guarantee
Book with complete confidence at Moulin de la Geneste with the Cool Camping Coronavirus Booking Guarantee. We guarantee the following clear policy for your booking:
A low deposit of 30% to secure your booking
Balance due 30 days before your holiday
Complete flexibility to move bookings up to the end of 2021 in the event of Coronavirus restrictions
Due to the flexibility provided we are unable to offer refunds
This guarantee supersedes any other policies
Gallery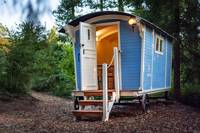 About Moulin de la Geneste
Suitable For
Everyone's welcome, including dogs (although they must be kept on a leads).
Nearby
Uzerche is a charming town to stroll with its inviting centre and Friday market brimming with the finest Limousin produce. For something a little more adrenaline-fuelled, visitors can take to the Vézère with some white-knuckle canoeing with trained instructors Base de la Minoterie (0033 555 730 284).

Pompadour equestrian centre

(0033 555 985 547) is the place to go to admire some of France's master riders at work. If chateaux are your thing, Segur-le-Chateau (22km away) –

le plus beaux villages de France

– is well worth a visit. When the heat becomes too much, head to one of the region's stunning lakes at

Bournazel

or

Teignac

– there's a diving board at the former and pedaloes at the latter.
Food & Drink
There's a bread delivery from the local boulangerie every day during July & August, so campers can have a basket of freshly-baked baguettes delivered to their pitch before 9am. A local farmer also visits selling locally-grown fruit and veg. There's always a small stock of food in reception, plus beers, wines and ice creams. Once a week, the site host an authentic Indian feast for all campers. Uzerche boasts several excellent eateries including Le Charmant (0033 5 55 98 17 80), Hôtel Joyet de Maubec (0033 5 55 97 20 60), Brasserie Vézère (0033 6 51 64 40 48).
Site Reviews
Add Your Review
Rated ★★★★★ over 28 reviews
The best place EVER
We stayed with a Sharon and her family in August 2020 in the middle of a pandemic and it was the perfect medicine to try and forget everything that was going on in the world. It was the most beautiful eco campsite with hosts that made us feel like we were visiting friends (they even tumble dried our underwear as we arrived at the site after 5 days of wild camping!) Our children roamed Wild and free, which isn't something that comes easily to me but it felt so safe there, we only saw them when they wanted left overs for the pigs! They loved exploring the forests rivers and animals and cried when we had to drive away. We asked our 5 year old daughter the favourite bit of the campsite when we left and she said 'Sharon', nothing was too much for them. I cannot recommend this place enough from the warm bread delivery (to your pitch) every morning to walking goats on a lead and building a raft to float lanterns on the lake it was so much more than we've ever experienced during a camping trip before and we cannot wait to go back. If you do one thing today- book this site- you won't regret it!
Fun, family campsite
We loved this campsite, loads for the kids to do, loads of space for them to safely venture, they loved the animals, great area with lots to do.
Beautiful site to come home to at the end of a day in a beautiful area
This site is a real gem, and exactly what we look for when searching sites on Cool Camping. We look for a reduced number of plots, which keeps things nice and quiet, and a beautiful location. It is only a small site but it is big on what it has to offer families. Don't look for noisy kids activities, you'll only find activities that kids will want to do by themselves. At the site there are animals for the kids to feed and stroke, there is a small safe river for them to paddle in, woods with a fairy garden for them to play in, a small lake for them to swim, canoe and even fish in! The hosts are very friendly and are always there if you need them. The facilities, washing up and bathrooms were always clean so no gripes on that one. Reception offers a few essentials if you are stuck and you can order your bread for the morning. We've had a lovely holiday this year in Correze which was made even better by staying at Moulin de la Geneste! Thank you Sharon and Steve.
A beautiful serene and private campsite for anyone
As a non contributor to reviews I feel compelled to highlight the beauty of this campsite. The hosts are incredibly relaxed making you feel welcome the moment you arrive and created a help yourself facility based on trust. The pitches are beautifully private and serene. The campsite itself has a lovely small collection of farm animals and a quiet atmospheric lake where you can grab a canoe or a boat when you like. The whole site feels like it's your own throughout as it is so well spaced and the greenery is encouraged rather than cut back to allow more pitches. Just a wonderful experience that personifies camping from start to finish,
Idylle in wunderbarer Umgebung
We spent one night with our 4 children and dog on this wonderful place. The journey alone led through attractive villages and was still easily accessible from the highway. Actually, we did not want to stay long, but our children could not move away from the lake with the boats and the small meandering streams. Subsequently, the ponies and pot-bellied pigs had to be caressed extensively. At night it was quite cool and wet (early September). We would have liked to have stayed for the small flea market music festival held on the square, which the friendly British owners organize every year around this time and for which the place has already been lovingly designed. We are glad,
See all reviews at Moulin de la Geneste
Location
Moulin de la Geneste is located at Moulin de la Geneste, 19140 Condat sur Ganaveix, Correze, Limousin, France
Getting There
You need to exit the A20 motorway at junction 44 if heading south. At the first roundabout go directly ahead signposted Uzerche. After approximately 3 km's there is a crossroads.  Take the left turn to Condat sur Ganaveix. Continue on this country road straight into the village approximately 4km. Whilst on this road you will cross over a railway bridge, continue straight ahead until you come to a T junction with a church opposite. Turn right. Take the second left turn (fork left) signposted Eyburie, Moulin de la Geneste and there is also a campsite sign. Continue for 2km, you will cross a small stone bridge over a river (and see the naked ladies!), do not turn into the first property but continue gently uphill for another 200 metres and Moulin de la Geneste is the next property (with large white gates).
The nearest train station is Uzerche, on the main Paris – Toulouse line. The nearest airport is Limoges, 45 minutes drive from the campsite. You can get direct flights from most UK airports.