Book campsites near Le Domaine Vert
Campsites in Corrèze
Campsites in Limousin
Available:
19 Pitches
1 Gypsy caravan
1 Static Caravan
...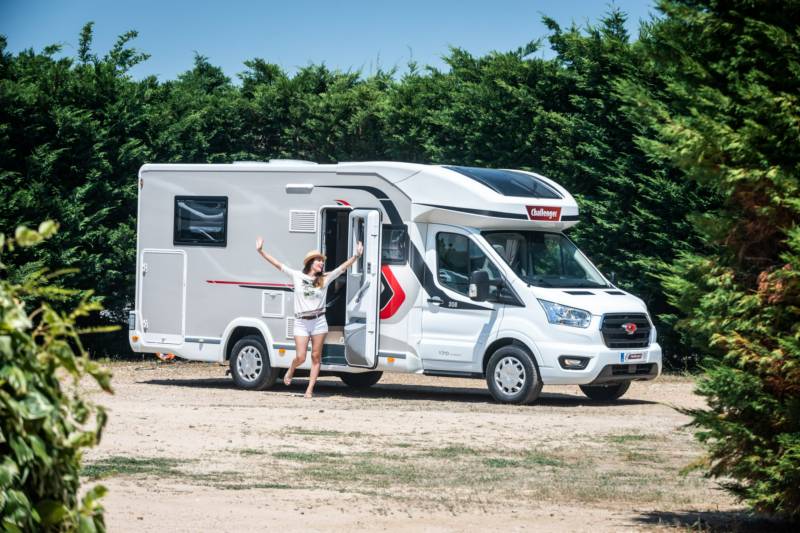 Holidays in Corrèze
Holidays in Limousin
A family-run, family-friendly campsite in an open agricultural landscape with almost 2-acres of space per pitch
Le Domaine Vert is the sort of campsite that makes you want to simply up-sticks, yank the kids out of school and take off to France to start a new life abroad. It has all the whimsical charm of a classic children's storybook and it's impossible not to be instantly won over by the campsite's rustic, farmyard entrance and miles of open space. No doubt, that the near two decades it has taken for owners Anne and Gerard to reach the campsite's current stage have been a lot of hard work – much of the farm's character has been brought out by careful restoration and they've done a vast amount of planting – but why let hard work get in the way of our dreams? From your pitch in the long grasses of Le Domaine Vert you too will be conjuring up plans to live a magical Limousin lifestyle.
The first fine example of just how well managed this campsite is, is the sheer amount of space on offer. Anne and Gerard's smallholding comprises a magnificent 17 acres, yet they limit the pitches to just nine in total. It doesn't take a mathematician to work out that that's a serious amount of space. From most pitches you can't even see any of the other tents in the campsite, creating a real sense of privacy and peace, while also leaving ample room for little tykes to run around and play games in the grass.
The camping area is roughly centred around the couple's house. It only accentuates that homely, family-run feel. In the courtyard outside, a cluster of tables offer the perfect space to enjoy an evening meal – home-cooked with veg from the garden (of course) – and, if the weather turns sour, Anne and Gerard have also converted an atmospheric cellar space inside, to act as an alternative. It's quite the unexpected discovery and a wonderful place to dine.
Their other magical conversion work is found inside one of the farm stables. Here Gerard has spruced up a former cattle pen and crafted his unique 'cupboard beds' out of old wooden surfaces and doors. The enclosed wooden bedsteads are particularly popular with late arrivals or early departures – those who fancy a night without the faff of assembling the tent – with a double bed in one and a bunk inside the other. Together they make a handy family combination.
To a certain extent the campsite is really a reflection of it's surroundings. The old farm is spritely and young compared to some of the ancient towns and villages in the region and a 15km cycle to Uzurche – 'the pearl of the Limousin' – quickly shows you how beauty comes some easily to this part of France. Le Domaine Vert is the perfect name for the campsite: simple, honest and spot on. A green place, indeed.
Details
Facilities
Bathrooms are housed in what used to be stables, with toilets, sinks, showers, a washing up area and a washing machine. WiFi available around the farmhouse. There are 3 two-person cupboard beds in the stable and 1 bunk-bed cupboard bed (for children) in the old cattle shed. A log cabin is also available to rent.
Suitable For
Tents, campervans, caravans, dogs – yes.

Nearby
It's a pleasant 10km cycle to Arnac-Pompadour to the east, renowned for its magnificent chateau (0033 5 55 98 55 47) – famously gifted by King Louis XV to Madame de Pompadour – and is also home to France's national stud farm. There's a race-course just out of town. A similar distance to the west of the campsite lies Uzerche (15km). The English writer Arthur Young described the town as "the pearl of the Limousin" in 1787, a misnomer that has since stuck and an apt description of the picturesque, riverside settlement. Built on top of a rocky outcrop, surrounded by the meandering Vézère, Uzerche possesses a rich cultural heritage and is well worth exploring. You can also hire canoes here, for a few hours on the river – a relaxing way to take in the surroundings.
Food & Drink
Anne and Gerard prepare meals in the farmhouse. Dishes are prepared with their own, home-grown produce, whether it be vegetables from the garden, freshly picked fruit or meat reared on the farm. Depending on the weather, they offer dinner in the courtyard, the 'Bodega' – an atmospheric wine cellar– or the main, covered terrace overlooking the adjoining fields. They usually offer you a three course dinner. Hog roasts are also known to take place if you're lucky with your timing!
Open
April – October.

Location
Contact Le Domaine Vert, Le Domaine Vert, Les Magnes, 19230 Troche, Corrèze, France
Getting There
Leave the A20 at exit 45 –  Vigeois, Uzerche and at the roundabout, take the third exit (Vigeois). Just after the roundabout, turn left to Vigeois. Drive all the way through Vigeois, keeping right, past the village square and follow the sign 'Troche'. Leave the village, driving through the railway tunnel, across the River Vézère and back uphill again. After about 1km take the road to the right (D50). Follow this for about 5km, and then follow the signs for "Le Domaine Vert". Turn right to "Les Magnes". It is the second farmhouse on the right.
Trains run to Uzerche. From here the campsite can pick you up if you arrange in advance.
Reviews
Add Your Review
Rated ★★★★★ over 11 reviews
Paradise
What a beautiful place with so much to do. A place to feel calm again. Wonderful villages and walking routes. For anyone who want to find nature and green. This is the place!
The best campsite we have ever stayed on.
We camped here, in a tent, for 5 nights. We wish we had booked longer. It is quite frankly brilliant. The pitch is not limited, the facilities are very clean and having fresh bread, cakes delivered every morning was amazing. Anne is the perfect host, just lets you get on with your day, but if you need something, Anne, is there for you. If you like cycling, walking or just peace and quiet, with Beautiful views, this is for you. I camped with my wife and 2 young daughters, we all loved it and will definitely return. Perhaps, even sample some of Annes home cooking. 10/10 from us.
Unforgettable experience.
Onderweg in Frankrijk net voor de corona uitbraak verbleven wij hier. Wat zijn wij goed opgevangen door Anne en Gerard! Uiteindelijk zijn we weken lang gebleven. We mochten gebruik maken van het vakantiehuis, in alle sereniteit. Dat er veel ruimte en gezonde lucht is op dit bijzondere domein dat wisten we al. Nu konden we extra stilstaan bij de omhelzende vredigheid en al die prachtige vergezichten. We hebben genoten van de overdadige kleurrijke velden in de verte, de blauwe bloemenpracht in de siertuin, de wilde orchideeën in het weiland en de zich iedere dag ontspruitende moestuin waarin ook wij heerlijk hebben getuinierd. Natuurlijk mogen we de stuiterende lammetjes en de gezellige kippen en de sierlijke koninklijke pauwen niet vergeten! Kortom een vrij en onbezorgd leven op 7 hectaren. Een absolute aanrader ook voor iedereen na het bizarre voorjaar van 2020.
On our way in France just before the break out of the Corona crisis we were here. We have been Well received by Anne and Gerard. In the end we stayed here for weeks. We were allowed to use the vacation home in all serenity. That there is much space and healthy air on this domain we knew. Now we have been standing still by the embracing peacefulness, all those beautiful vistas. We enjoy the excessive colourful fields in the distance, the bleu floral splendor in the ornamental garden, the wild orchides in the meadow and the kitchen garden which is sprouting every day and in which we have gardened too. Of course we may not forget the bouncing lambkins and the cozy chickens, but also the royal peacocks. In short a free and untroubled life on 7 hectares. An absolute recommendable place to stay. Also for everyone after the bizarre spring of 2020.
Thoughtful attention to every aspect of your stay.....
We've camped for many years in the widest range of sites, from 5* to open fields - this campsite managed to combine aspects of all in the most tasteful and helpful way. The book exchange with reading glasses provided exemplified their approach. Lovely modern facilities housed in traditional style furniture and homemade produce welcomed you immediately - definitely worth a stay.
Fabulous, friendly, with huge peaceful pitches
A wonderful camping experience. The biggest pitches we have ever encountered. We couldn't see another tent from our pitch. Incredibly peaceful, with lots of wildlife. The main house has beautiful gardens for relaxing in, with a pair of albino peacocks as well as chickens roaming around. The facilities are great, with lots of attention to detail, and if you are lucky enough to be there for one of the evening meals you are in for a treat. They cooked up a real feast for us! A really memorable, magical experience.
Rustic Restful and Quirky
Upon arrival at Le Domaine Vert we were shown to a spectacular spot overlooking the surrounding fields and each given a slice of delicious cake. The relaxation was almost instant. It in these rare moments you gain great clarity and perspective. Every now and then, it's a good idea to sit down, take a deep breath and ask yourself, "where am I and where am I going?". Up until that moment our 'restful' holiday had been spent charging from village to chateaux, stopping at every attraction we could find. Yet, what we really needed was an idyllic and tranquil site to truly unwind. Our over-night stop-over soon turned into a longer stay of true rest and relaxation. The site had some of the cleanest and quirkiest facilities you could ever wish for and the Hosts welcomed you like family.
Landscape and a very big place around your camp place
Lovely couple that makesyou feel at home directory, they comedy dinnet with produce of their own land. A lot off animale, beautiful garden. IT is a great stay and Will return this summer.
Lovely place run by a most friendly couple
Stayed here on route to the south of France for one night but returned on the way home for several more. Lovely couple that makes you feel at home directly, do try their home cooked dinner with produce of their own land. Spacious, quiet and privat pitches with a wide view over the area. Excellent facilities in the old rustic stable. Several farm animals as peacocks, chicken, ducks, geese and sheep walk around freely in the beautiful garden. Do visit the town of Brive with a great Saturday market, every Wednesday there is a barbecue and dance in the nearby village. We had a great stay and will return this summer.
glorious isolation
Le Domaine Vert was a welcome two night stopover on the way to Spain fantastic spot must come again we were there in late October 2017 thanks Anne and Gerard
Tranquility
Le Domaine Vert is a truly tranquil site. We were able to select our own pitch to suit us and were left to our own devices. We went for a week in September, so the site was fairly quiet anyway but we were still sharing several acres with only one other van. The facilities are excellent and it is clear that the hosts know well what it is like to camp and so cater accordingly. They were incredibly helpful and welcoming. As we were off-season, we were unable to enjoy the culinary delights in the bodega, but Sunday Surprise plum tart gave us a delicious hint at what might be on offer! We really enjoyed our stay (despite some unseasonably cold and wet weather) and will most definitely be returning. Thank you Anne & Gerard
Peace & Quiet !
We stayed at Domaine Vert with Anne & Gerard last summer for a few days ... This is the most wonderful location for discovering a beautiful part of France. The campsite is well run and very friendly and we were made to feel very welcome! Rustic and quirky would be a good description . The shower and toilet facilities are clean and well looked after , the gardens are relaxing and beautiful. Wifi is also a big plus! We were lucky enough to be able to dine there one night .. where Gerards amazing culinary skill produced locally produced cuisine. It was delicious and and true experience ! Lots to see in the area.. lots of visits and places to go walking and cycling. There is a local night market on a Wednesday evening during the summer which was wonderful to go and visit.. lots of dancing was done Thank you to everyone at DV for making us welcome.... a true treasure of a find !! We will be back !