Huttopia Font Romeu Huttopia
Route de Mont Louis, 66120 Font-Romeu, Pyrénées-Orientales, France














A suitable pitch for every type of camper among the peaks of the Pyrénées
Life looks good from this perch on a Pyrénéan mountainside. Even those pitches snuggled among the thickest trees still reveal splintered views across the valley. The vistas make a postcard-worthy picture and the general routine for campers at the site is: arrive, check in, plonk the tent down and begin to take some photos. Summer or winter, the mountains here look fabulous.
Though large – there are 122 pitches spread across the 17-acre area – Huttopia Font-Romeu is a sensitively created site. Camping spots are well spread around, with some, specifically designated for hikers, tucked in a vehicle-free area of the site, while the glamping options are subtly designed. The wood and canvas structures fit smartly within the landscape – a far nicer creation than static mobile homes – and feature proper beds, a living space and a compact kitchen area.
For everyone else, the central lodge is their go-to warm up shelter. As well as the reception, information point and a small grocery shop, it has a toasty wood-fired chimney in the centre that heats the main lounge. On cooler days you can relax at a sofa with one of their family board games.
In summer it's the swimming pool that soaks up much of your time, though really the type of campers drawn to this campsite are those who spend the majority of their time elsewhere anyway. At an altitude of 1,800 meters, Huttopia Font-Romeu is a place designed for mountain lovers and is ready made for active fun. After all, why bother with the swimming pool when you can dip in a crystal clear, Pyrénéan pond formed from glacial waters?
Several footpaths lead away from the campsite entrance and the Way of St James passes directly through Font-Romeu village – a long distance pilgrimage route that draws hikers to the area. Mountain bike hire is available 300 meters down the road and there's ample information available in reception (and from staff) on the best spots to roam. Make sure there's some space left on your camera if you plan to take more photos. The views from the campsite may be special, but from the top they're all the better.
Gallery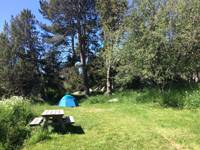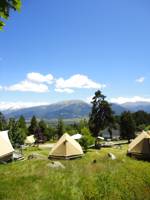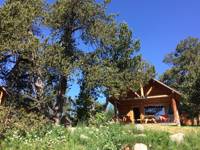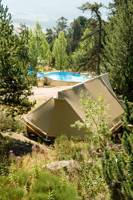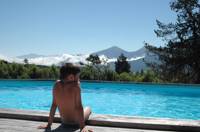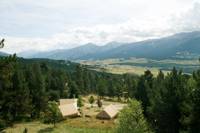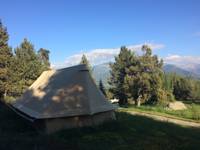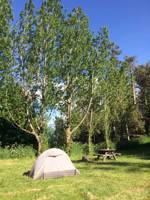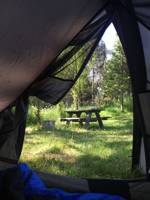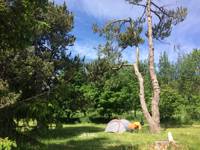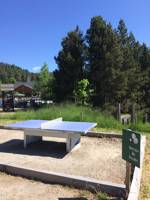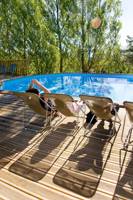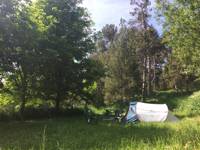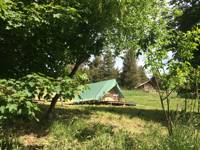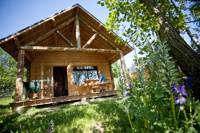 Video Tour
The Owner Says
The ideal nature destination for a summer or winter holiday in the mountains!
Imagine a holiday surrounded by mountains… In the heart of the Pyrenees, Huttopia Font-Romeu campsite offers beautiful pitches for tents, caravans, and motorhomes as well as fully equipped rental accommodation with views over the mountain tops.
At the end of the day, enjoy the quality services on site: a warm wooden central lodge, beautiful heated swimming pools, and a pizza-grill restaurant for you to treat yourselves to dinner or enjoy drinks on the terrace at sunset.
And even in the winter you can enjoy this site:
Get together with family or friends for an authentic winter snow holiday in the heart of the Pyrenees and enjoy an unforgettable stay in a Wood Cabin in Font-Romeu, in the centre of the resort!
Reviews
Add Your Review
Great campsite (best in high season)
We were here in June and arrived before the real summer season (mountain biking e.t.c.) really kicked off, so the village of Font-Romeu itself was pretty quite. And, annoyingly, we kept seeing posters for really cool looking things that were all opening/starting the following week! Anyway, the campsite was fairly quite as a result so we had loads of space to ourselves. Found a pitch with the best views (all the views here are pretty ace) and facilities were good and clean. Staff very friendly and okay at giving recommendations but, as it was the start of the season, only the more established ones clearly knew all the good local spots. We visited Mont-Louis down the road (old, beautiful, recommended) and did the 12 lakes hike at Lac des Bouillouses which I highly recommend. From the signs there it looks like you can actually wild camp (between certain hours) at the higher lakes which I would love to return and do one night. Shame you're not allowed to swim in the lakes though. Some good restaurants in Font-Romeu and an amazing (if expensive) cheese shop.
Nice hut in the Pyrenees
Fabulous location with excellent local activities such as walking, biking, hiking and swimming. Great fun for the whole family, including the dog! The hut was very clean and well equipped, Huttopia is extremely accommodating and welcoming. Would certainly recommend.
Win a £100 Blacks Voucher!
If you've stayed at Huttopia Font Romeu campsite, please take a minute to tell us about your experience. Every month, one lucky reviewer will be picked at random to win a £100 voucher, courtesy of our recommended retailer Blacks. Each review counts as one entry, so get writing!

Best Price Guarantee, with no fees
Instant booking confirmation
Trusted for 10 years
A chance to win camping goodies in our regular competitions!