Relaxed riverside camping and wild swimming in the beautiful Cévennes mountains
When author Robert Louis Stevenson penned Treasure Island, his colourful plot drew on a life peppered with interesting travels. Decades earlier, his adventures around the south of France inspired Travels with a Donkey in the Cévennes, a classic of outdoor literature. Meandering through the tree-clad mountains, Stevenson's idea of cool camping was definitely a little different from ours today, not least because his shabby homemade sleeping bag was so heavy a donkey was required to carry it, but all the same he knew a stunning location when he saw it – 'a smooth sandy ledge… the Tarn below… a thin fringe of ash trees… a faint sweet perfume which pervaded the afternoon air'. We couldn't have put it better ourselves. Stevenson captures the timeless beauty of this exact spot more than a century ago.
Of course things have changed a little since then and, while the Tarn still frolics through its sandy channel, the ash and Spanish chestnut trees are now a shady canopy for tents, riddled here and there. The idyllic setting Stevenson found is now a resting point for fellow travelers and Camping Chantemerle is the name it takes. Echoing the traits of the languid young wanderer, this riverside spot is unpretentious and relaxed, a campsite where time passes you by as gently as the water's flow.
Beneath ancient trees, camping pitches are spread around, indiscernibly divided from one another, all with electrical hookups if required. Around 25 of the 69 pitches are along the riverfront, though the rest still have easy access to the water, where a private sloping beach reaches down to the Tarn, deep enough for good paddling and bathing, though not quite enough for a proper swim. There's also a great swim hole at the far end of camp that's perfect for proper wild swimming. Choose between sunning on the beach beside an old bridge or hopping along the rocks that cluster on the riverbanks as you head upstream towards a deeper gorge. Head this way in the evenings to perch quietly on the bank to catch a glimpse of the resident beaver family, bobbing along in the water pushing branches on their noses.
Back at the campsite itself there is plenty to entertain, with an outdoor play area, table tennis and a pétanque court, along with an established bar/restaurant that is careful to avoid any holiday parkish car-crashes like karaoke nights and conga trains. Instead the humble, local food in a simple café setting reflects the personality of imitable owner Nicole and her friendly team, who make Camping Chantemerle the place that it is. French speaking, half German/half American there's no need to worry about any language barriers here. Warm, welcoming and full of local knowledge Nicole is the go-to person when you finally drag yourself away from the riverside and decide to explore the rest of the surrounding area. Ensconced in the Parc Nationale des Cévennes with picturesque rural settlements dotted amongst the hills, it is difficult to go wrong. Like our wayward traveller Stevenson, tie your laces, point your finger and go explore. A wondrous landscape awaits.
Gallery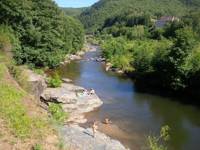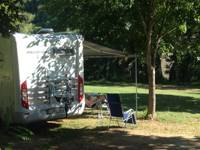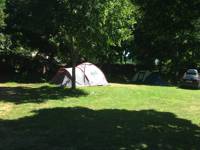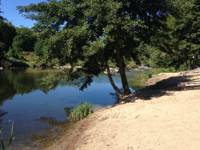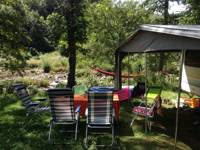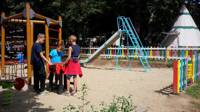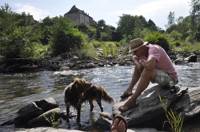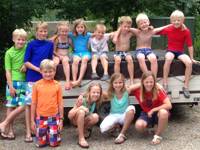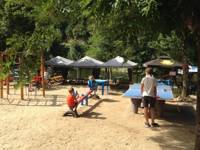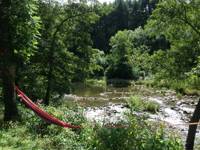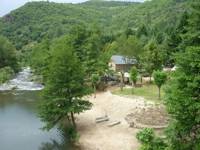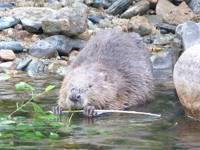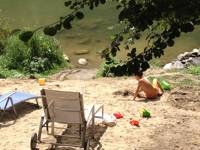 The Owner Says
We wanted camping Chantemerle to be a campsite where we would feel good as campers. This is why we fell in love with camping Chantemerle : nature, very green surroundings, old trees, space to hang up a hammac, shade and sun, large pitches, a river to listen to and to swim in, a beautiful old bridge, a bit isolated, a beaver family to observe, lots of amazing walks and magnificant sites to visit, sport activities nearby and a good bar/restaurant directly on site (overlooking the bridge/beach/river). Chantemerle also has an exchange library to take or leave a book in 4 different languages, board games to borrow, boules to borrow for a game of pétanque, a free of fee Wifi Hotspot to be connected & talk to loved ones, but no organized activities, that is our kind of camping and that is what Chantemerle is all about. We can organize bike rentals, canoe-kayak, cannoying, via Ferrata, climbing, walks, or a donkey to walk with for a couple of hours or a day. We  have 8 mobil homes, 1 tipi and 1 caravane for rent. We have an onsite restaurant "la Bergerie" which is right by the river overlooking the beach/bridge/Tarn, we serve local products and dishes as well as our famous pizzas, home made desserts... You can also come for a drink, cold draft beer, an expresso or afternoon icecream, there is always someone around to serve you. We have fresh bread, croissants, pains au chocolat ... delivered fresh to recetpion april through november.  We have, over the years,  meet many campers from Europe and further away, some of which we keep in touch with, some that became friends and other we just look forward to seeing again one day. If this all sounds like your kind of vacation or just a stop over for a few days, you might love it here. We try to help you in all ways we can, we do speak english, german, italian and french as mother tongues and are happy to indicate to you some sites not to miss and things to do while you are in the Cevennes.
Voilà, à bientôt peut-être !
Reader Reviews
Add Your Review
Peaceful, quiet, beautiful
We camped here for 3 nights here at the end of August, and loved it. We are a couple in our late 60s and enjoy quiet campsites; we had wondered whether this would be too noisy / family-oriented for us, but not at all! Nicole runs the site brilliantly, with just the right mix of attention, care, and lack of fussiness. The site runs along the banks of the young river Tarn, between the river and the 'Stevenson trail' along which RL Stevenson walked with Modestine in his 'Travels with a Donkey'. At various places along the river there are pools deep enough to swim in - idyllic, straight from our tent! The site is clean, and well maintained, with a small shop which sells the basics including fresh bread and croissants. We did notice though that during our stay the site emptied out considerably, so that it felt spacious and quiet, and with few campers. Earlier in the season it might have felt more crowded.
Best campsite ever!
This is a fantastic campsite. The owners speak amazing english and are very nice and helpful. We had a pitch by the river which was wonderful and regularly paddled and sat on the rocks in the sun. The pizza from the restaurant is extremely good too and the campsite is within walking distance of a beautiful wild swim, Florac (a really relaxing hour's walk through forests and the valley), plus you can drive into the hills and walk, cycle or swim in the river. We were with two teenagers who also enjoyed it - the pizza and wifi definitely helped :) - but they really appreciated the river, cycling and wild swimming. We would definitely return to this campsite - the area around it is beautiful and the campsite itself is fantastic.
A brilliant week
We stayed here for a week with 4 children under 11 at the end of August and it was everything it promised. Very relaxed and helpful owners, fabulous location and we even saw the beaver. We swam, paddled, went in the dingy, kayaked, visited caves, and went to the on site restaurant. I really recommend this site, it's great for families, safe to explore the river and low key but good facilities. We had a pitch next to the river with plenty of shade and water close by. The whole area is beautiful and there is so much to do and explore. However there is no pressing need to leave the campsite as it is so relaxing and fun just being there. We are hoping to go back again next year. My son is helping me to write this, he wants me to say he loved it and wants to go back. He learned how to play table tennis there 😄
Tranquility Personified
Beautiful campsite in a fantastic region!  The site sits right on the River Tarn and it's possible to site for hours watching the wildlife and just chilling.  It's just 3 miles along the Stevenson Trail by foot or mountain bike(for the experienced!) to Florac.  Nicole (American) cannot do enough to make your stay comfortable and she has a great local knowledge.  The site restaurant serves good food, the sanitary facilities are clean, spacious and functional, the pitches have as much sun or shade as you like to choose and you can swim in the river too!  There is also a resident beaver who puts in frequent appearances at dusk.  For me it was the wild swimming in deep pools and fast flowing natural flumes at numerous locations on the Tarn together with the beautiful village of Florac that were the icing on the cake.  I would totally recommend this site and will definitely be returning soon.
Perfect real camping
 Our family (Dad, Mum and two pre-teen daughters) spent the middle two weeks of July on this wonderful campsite.  We hit the peak of a heat-wave with temperatures in the mid to high 30's every day, but comfortable mid-teens overnight due to the mountain climate.  This enabled us to spend hours on end in the water, exploring the stunning 'off the beaten tracks' swim holes and deserted shady places to paddle and watch fish and the beavers.
I could seldom drag the family away to explore the wonderful gorges, rugged high country and beautiful, unspoilt villages, because they loved being in and around the campsite and river so much!
We had a fantastic and spacious pitch next to the river, restaurant and near the facilities.  These were always clean with good warm showers, a good washing machine and washing up facilities.
The hosts were excellent and informative.  Nicole deserves a very special mention as she was wonderful when acting as my multilingual 'PA'- organising emergency treatment for a deep cut my daughter had and a later clinic appointment for her check-up.
The restaurant is excellent too, great simple food and amazing salads!
This is a beautiful, quiet, relaxing and exciting place to stay.  We all thought it was the best place we have ever camped!  Just about the perfect campsite.
Amazing
I spent 8 days at Chantemerle and wished we didn't have to leave. It is a beautiful place, and the surrounding villages are beautiful as well. Be sure to try out all the different swimming spots (ask Nicole, she knows) not just the bit of river accessible from the campsite. If you can tear yourself away, there are lots of other activities for a range of abilities: horse riding, walking, biking, canoeing/kayaking not to mention fantastic local markets. Don't miss Florac, it is a a lovely little town and the river goes through it.
 All the facilities are good, we travelled by train so stayed in a mobile home, which was very nice, but I was envious of those who had pitches right by the river. The laundry area was a real plus and soap is provided, the restaurant is great. Kids,dogs, people from all over were there and it had a really friendly vibe. Wifi junkies sit around the tables at reception where they can get access, and the on-site shop stocks basic essentials plus toys and books to borrow. What more can I say? The owners have obviously made an effort to create a pleasant family-friendly campsite and they have succeeded! Should really be more than 2 stars.
Beautiful
We just got back from a week holiday at camping Chantemerle and we absolutely loved it!!! If it weren't for circumstances at my end then we'd have booked up already for next year.
I read previous reviews about the washing facilities, well they must have been upgraded since then because these were brilliant, kept very clean and modern.
It's a lovely peaceful campsite with just the noise of the flowing river. 
My 3 little ones really enjoyed swimming in the river and paddling around the rocks watching the fish-tip-definitely take a snorkel and mask and some shoes to wear in the river because although a lot of it is sand, the rocks can be very slippery.
In the evenings we watched the local beavers in their natural environment.
its a very beautiful setting and lots to do, walks to go on etc. The owner, a very lovely lady speaks excellent English and is so friendly. 
I would highly recommend this campsite as a must visit!
Wonderful campsite, fantastic service
I visited Camping Chantamerle with my friend for a weeks short notice holiday at the end of October. The setting is absolutely beautiful, with the river running right past the end of the pitches. We were the only campers there (only because of the time of year), with two other mobile homes for company so we had our own space and beautiful views. The lady who runs the campsite is friendly and very knowledgable about the surrounding area, so gave us some great recommendations of drives and places to visit we might not have found in the guidebooks. She also speaks perfect English which helps with the more complicated directions! There is loads to explore in the surrounding area, but we did spend time walking the paths around the campsite, exploring the river and chilling on the rocks which was really magical. The restaurant is lovely, with locals turning up there for a meal out which in France is the best review you can get! Highly recommended and the whole surrounding area is stunning. I'm definitely coming back!
Best Price Guarantee, with no fees
Instant booking confirmation
Trusted for over 10 years
A chance to win £50 of Cool Camping vouchers!
Book campsites near Camping Chantemerle