Spacious and peaceful eco-camping in the Parc National des Cévennes
You'd better take a jaw-sling with you when driving to La Cascade along the Gorges de la Jonte. Because if the views along this scenic chasm (especially the part between Le Rozier and Meyrueis) don't make the lower half of your face succumb to the force of awe-inspired gravity, then the fantastic atmosphere at the campsite will.
While the area around the gorge brims with campsites, the majority are large, commercial and – dare we say – déclassé. La Cascade deftly sidesteps any such negative associations by virtue of its location, slightly away from the gorge itself, positioned at an altitude of 2,460 feet (750 m) at the foot of the majestic Causse Méjean.
There's no denying it's big – but big in a large, open, and friendly way, rather than a packed-with-caravans-God-I-can't-breathe-properly way. Rather than welcoming motorhomes and building loud discos, La Cascade's hospitable French owners, Anne-Marie and Jean-Noël, have kept it deliberately natural, with just a smattering of wooden chalets (13 to be exact) and a huge amount of space for campers.
There are 50 pitches in total, split between two main fields (plus a couple in a delightful little hidden area next to a stream). Wherever you throw up your tent you'll get lots of space and lovely open-sky views, either of the handsome Causse Méjean or the fresh, towering pines on the other side. In the morning the first sounds you're likely to hear are bells and sheep.
Both Anne-Marie and Jean-Noël grew up in the Alps and have a strong appreciation for nature. They bought the campsite from a previously eco-conscious couple and take their environment similarly seriously – something reflected in the ardent eco-policy of the site: 60 per cent of the energy needed to heat the domestic water is solar, two-thirds of the lightbulbs are low-energy consumption, and there's an emphasis on recycling. They are also members of the Via Natura Association (the association of ecological campsites in France) and have recently installed an observatory for the newly reintroduced and rare bearded vulture.
There's a small restaurant on site and a shop selling lots of excellent local produce and there's a fair amount to keep you busy. A sizeable boules court, small library with documentation about the surrounding region, a playground for kids, and a badminton net stretched across one field. You can splash around in the spring and waterfall right next door (which is connected to the River Jonte) or take one of their guided hikes during summer.
Since the site is located within the Parc National des Cévennes, there's an abundance of activities off site, too. You have direct access, of course, to the nearby Gorges de la Jonte, which offers plenty of climbing, hiking, and cycling opportunities; but the even more spectacular Gorges du Tarn, formed by the Tarn River between the Causse Méjean and the Causse de Sauveterre, is also just a half-hour drive away.
Here you can take walks and drives, enjoy kayak trips or rafting, go fishing, caving, or canyoning... all you'll need are some wheels, a desire for adventure, and your very durable jaw-sling.
Best Price Guarantee
Easy and Secure, with instant booking confirmation
Trusted for over 10 years
A chance to win a brand new Coleman tent!
Gallery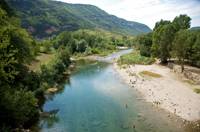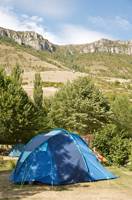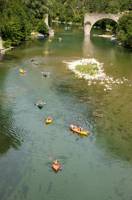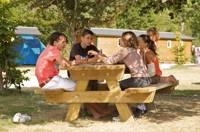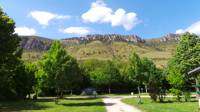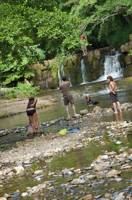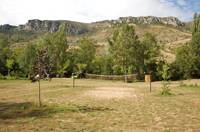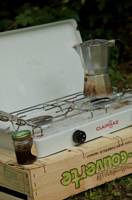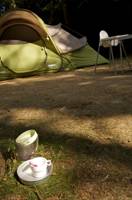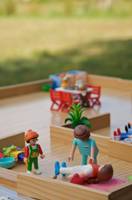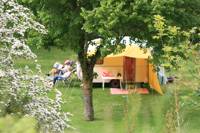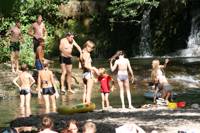 Reader Reviews
Add Your Review
amazing campsite
Really beautiful campsite, it's calm and there is space for children, if you like nature it's the good place for you! 
so lovely
Last summer, we 've been to the "camping la cascade" with my parents. We 've taken a very nice cabin . It's was just beautiful and naturally. We swam into the river, went to the trampoline and ate delicious pizzas. The owners were very friendly and the dog "Cheyenne" very cute. We hope to come back next year.
Relaxed, friendly, unpretentious
Beautiful location, clean, simple campsite. Friendly people- everyone seemed happy to be there. We visited five cool camping sites this summer, and this was one of the best two. We only stayed two nights but next year plan to stay longer and explore the amazing surroundings.

Fabulous surroundings
We recently had the pleasure of staying just one night at Camping la Cascade and had a really brilliant stay. The hosts Eric and Marie-Hélène were very friendly and made us feel extremely welcome. The campsite is in a fabulous setting offering beautiful mountainous views and a small waterfall nearby. 
The site prides itself on maintaining a natural environment and ensuring pitches are large and spacious so everyone has privacy and their own spot! 
The site offers a nice play area for kids, complete with ping pong table and trampoline sure to keep them entertained.
Also worth a mention is the common area perfect spot to unwind, read a book or play a game, made nice and cosy by the fire (a delightful sight in the cooler evenings!!!). It was here in the morning where we enjoyed a delicious breakfast of toast and croissants organised by Eric and Marie-Hélène.   
We drove through Parc National des Cévennes which was spectacular,  exceeding all expectations. Also worth a visit is the nearby village of Ste- Enimie a picturesque spot to go for a stroll or enjoy a little refreshment in one of the cafes.
I wound definitely recommend it here for you if you fancy a relaxing, peaceful stay among beautiful surroundings.
Camping La Cascade
If you are looking for a quiet campsite, with plenty of space and good facilities for children - this is the place for you. This area of France is beautiful, with plenty of activities nearby to suit almost everyone. We visited the campsite in high summer, but had plenty of space and the facilities were never crowded. There is a small play park for the children and the possibility for swimming by a small waterfall (not the picture above), there is also a large open space for football/tennis. We had a wonderful time here and the price was very reasonable - highly recommended. 
Book campsites near Camping La Cascade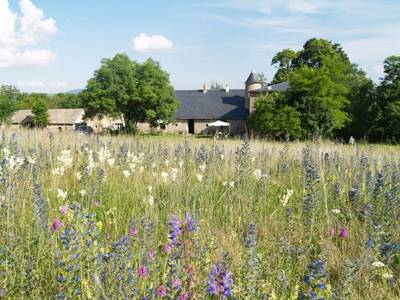 i
Campsites in Gard
Campsites in Languedoc-Roussillon
Campsites in France
Available:
1 Pitch
1 Static Caravan
2 Yurt or Gers
...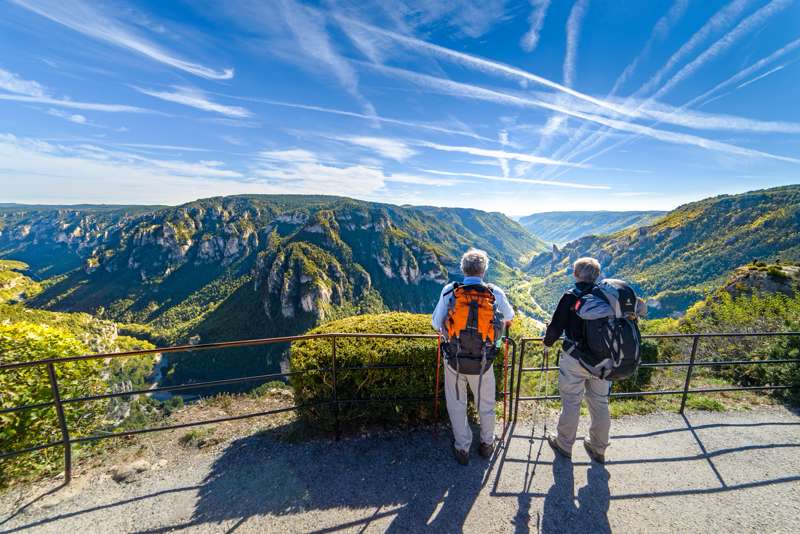 i
Campsites in Lozère
Campsites in Languedoc-Roussillon
Campsites in France
Available:
1 Pitch
1 Bell tent
1 Safari tent