Camping Goudal
Camping Goudal, Route de Lacaune, 34330 La Salvetat sur Agout, Hérault, France















There's something in the water at Camping Goudal in the South of France, a lush, homely campsite in the Languedoc hills with a natural swimming lake and an informal restaurant
The glossy magazines may claim Cameron Diaz spends millions washing her hair with bottled spring water but if only the celebs knew to visit Camping Goudal in the south of France. They'd have everything they need. Burbling from a south-facing slope, natural spring water (bottled and sold nationally as 'La Salvetat') cascades through rocks into a series of streams bound for the River Agout. The streamside campsite is fed by the same waters – its taps, showers and washing machine all use the mineral water – while an oval lake offers guests the chance to bathe in the fresh
eau naturelle
. It's the Cameron Diaz treatment at a fraction of the cost.
Set in the gentle slopes of the Parc naturel régional du Haut-Languedoc, 18-acre Camping Goudal is an established and expansive site on the estate of an old farm. The main reception and entrance buildings date back to 1839 and set the tone for the style of rustic, rural camping beyond. Grass pitches, all with the option of electricity, spread through mature trees and terraced levels gently descend to the lake, fronted by a small sandy beach.
It's not all back-to-nature simplicity. For luxury seekers, the furthest end of the site has some ready-made glamping options. Well-equipped wooden chalets are accompanied by smaller, slightly more basic cabins, while pre-pitched tents come furnished with beds, bedding, a kitchen set, gas grill and wardrobe. And whether you pitch your own tent or pluck for one of these up-market options, all guests can treat themselves at the on-site bistro. Surrounded by grey-stone cliffs on one side and an ivy-clad old building on the other, diners lounge on a quaint, sunny terrace as they wait for pizzas from the stone-baked ovens.
Despite the lake, Camping Goudal also has a large, man-made swimming pool to accompany the trampolines and playground and run loosely organized, free activities for the kids – den building, bug hunting and the like. It all has a rather homely and homemade feel, as opposed to the commercial programme of European holiday parks. It suits the place down to the ground. Camping here is about family time and exploring the natural, wild surroundings; an atmosphere only enhanced by the ye olde stone dwellings that seem to have grown into the slopes of the site itself. Everything is well worn yet also lush, young and green... There's obviously something special in the water.
Gallery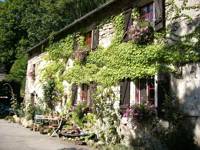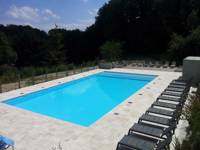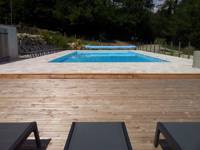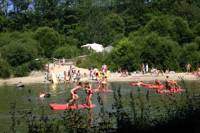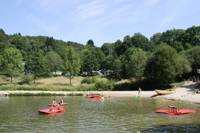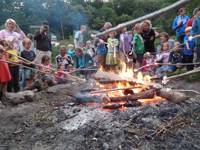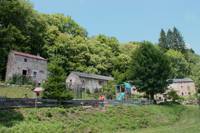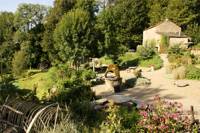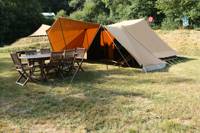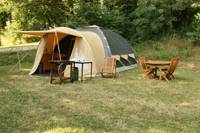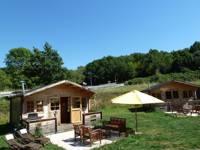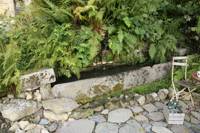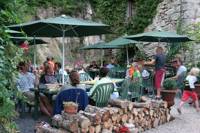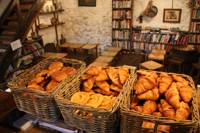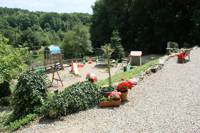 Reviews
Add Your Review
Character and charm in the haut-languedoc
The most charming French campsite I have stayed at. It's a beautiful wilderness in the unspoilt haut-Languedoc. Brand new pool and a fantastic communal campfire with marshmallows every Friday night. Our kids loved it! The local town of Salvetat is well worth a visit and is refreshingly tourist-free compared to other regions in France. Would highly recommend.
Beautiful campsite with a wonderful pool!
My sons and I stayed here last summer and we had the most wonderful stay. Set in the beautiful French countryside, the site was well kept and well run by attentive and helpful owners who are clearly focussed on doing their best to create a perfect summer get away for people who love to be in nature and want their children to be able to run a little free in the sunshine. We arrived last year in time for the new pool to be opened which was impeccably clean and delightfully cool in the heat. The pool is so good that we are still talking about it a year on. There is also a lake to take a dip in which my boys loved (along with the big slide) although in my opinion this area felt a little unloved in comparision to the rest of the site. Croissants and bread are available in the morning and Home-made pizzas were available every other evening with chicken and chips on the alternate night, we didn't try this but the pizzas were delicious and could be taken to your pitch or eaten in the restaurant which is next to a big playground area. The playground acts a sort of hub in the evening so the children all have a chance to mix and play together. The atmosphere was very relaxed and friendly and generally campers went to bed with the sun ( definitely no noisy campers late into the night). When we visited, the weather was warm in the day and cool at night - perfect camping weather but sleeping bags were definitely needed! This campsite is for you if you like nature and want a tranquil relaxing holiday with perhaps a quiet read in a hammock, followed by a dip in the pool and then a walk around a picturesque local village. I couldn't recommend it more and we're looking forward to returning this August!
Beautiful site lovely people
A stunning, flower filled campsite this lovely jem needs to be discovered. In the heart of the nature park it came alive with 'jungle sounds' at night -frogs, crickets and owls. Run by a lovely young Dutch couple it is very well kept with a charming old farmhouse where the resturant, reception and washrooms are. Good facilities but be aware the pool and cafe may not be open early season although they opened the pool early just for us as it was so warm during our stay -great customer care. Set in a wonderful area of larger lakes ( with water sports) mountain views and charming villages to explore this is a great place to get back to nature.
Calm down everyone
In the beginning of June we literally had this beautiful place for our selves. Except of course from the very friendly hosts Femke and Miguel. The campsite is stunning and in the middle of one the most interesting yet tranquil areas we have experienced in France. Endless meadows, lakes, mountains and lots of animals. Not to forget a pearlstring of charming villages, great food and wine and friendly locals. Go sooner rather than later - with or without kids (we brought three and they loved it!)
Wonderful place
Beautiful site, we loved it and will return. Gorgeous green location surrounded by forest, spacious site with big pitches, lovely friendly owners. Quiet at night - only owls to be heard after about 11pm! Small pool and lake on site (not overly appealing to swim in, though we did) - but lovely fresh lakes a short drive away for swimming etc. Great for kids. Feels like you're in the middle of nowhere in this quiet and beautiful national park (even in August) - a hidden treasure.
Classically Cool Camping
This is an as yet undiscovered gem. Only been a Cool Camping site since May 2016, and it's a classic CC place: beautifully situated (it's all about the scenery), big pitches so quiet (very quiet when we were there in late August), very green. Cool, basically. For us it was all about stick whittling and starry skies.
Fantastic!
We enjoyed a wonderful stay at this very special camp site, during our recent holiday in France. Our accommodation was in one of the Chalets, which was well equipped, perfectly clean and very comfortable. Their lake was a welcome surprise, and we spent many enjoyable hours there. We used this a base to explore the area, including Lac de Raviege and La Salvetat-Sur-Agout, although we need more time to explore properly! Femke took excellent care of us, and was very gracious and discreet. If we are ever in this area again, we will definitely make a point of staying at Camping Goudal. Dave, Roenel & Riani Kenyon
Best Price Guarantee, with no fees
Instant booking confirmation
Trusted for over 10 years
A chance to win £50 of Cool Camping vouchers!
Book campsites near Camping Goudal