Grass Pitch 2
(1 at Domaine de Pradines)
A choice of spacious pitches in a meadow with open views or in a pine forest set in the stunning Cevennes National Park.
The Owner Says
We have 50 spacious pitches set amongst a wide open meadow, edged by pine forests on either side, or in the forest, set within the Cevennes National Park.  The photograph shown gives you an idea of the character of the pitches we offer, but is not necessarily the pitch we will have.  We will send you a description of the different areas of the campsite and decide with you what the best pitch will be depending on your needs.
               Domaine de Pradines is a stunning campsite, a truly tranquil escape from the busy lives of today, with nothing but the stars to light your way at night. The campsite has no roads next to it, making it a very quiet and child-friendly escape.
             The campsite has so much to offer, including an outdoor swimming pool with paddling pool, tennis courts available to rent, ping pong, badminton, volleyball, and an outdoor play park for the children. It's a large, wild and natural playground for young and old!  This is an idyllic, tranquil and beautiful setting within the Cevennes National Park, with a wealth of activities to do in the area from canoeing to river bathing and exploring, hiking, horse riding to paragliding, plus some lovely food markets in various nearby villages and wonderful, dramatic scenery.  A feast for the eyes!
              In July & August, a vaulted dining room in an ancient Templar building is the on-site restaurant, serving locally sourced food - a beautiful space to wine and dine.  There is also a small shop selling essentials and fresh bread on order. The campsite setting is beautiful, surrounded by woodland with wild orchids and rare bird species, plus stunning views of the incredible Cevennes National Park. It's an ideal base for any outdoors enthusiasts - with a few luxuries along the way!
               The price quoted for camping includes one pitch for the specified number of people, car parking and access to hot shower and toilet block, pool etc. Head torches are a must, as shower blocks can be a little walk (300m) from some of the furthest pitches, but the peace and tranquility certainly makes up for these extra steps, as does the starry night sky up above.
Please be aware that there will be a taxe de séjour to be paid in French campsites. This Holiday Accommodation Tourist Tax for your holiday must to be paid in the campsite with a minimum and maximum range set between from €0.20 to €1.50 person/night.
Gallery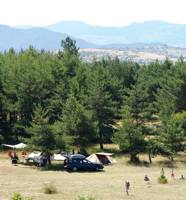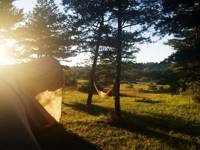 About Domaine de Pradines
Suitable For
Tents, caravans, campervans, cars – yes. Groups by arrangement. We also have other types of accommodation like wooden lodges, gîtes.

Nearby
An embarrassment of riches awaits. There's the Grotte de Dargilan caves (00 33 4 66 45 60 20) or the famous Roquefort cheese caves (00 33 5 65 58 56 00); the Mont Aigoual which rises to 1500m alt. and all its outdoor activiies in the Pôle 4-Saisons; the Templar villages across the Larzac plateau; the Micropolis Insectarium will appeal to creepy-crawly lovers of all ages (00 33 5 65 58 50 50). Fremyc (00 33 6 58 13 48 48), in Meyrueis, organises rafting, canoeing, walks, bike rides, speleology tours, via ferrata, and more. Airzone Parapente (00 33 6 60 84 76 23) can organise tandem rides over Millau and the Grands Causses. Randals Bison (00 33 4 67 82 73 74) offer cowboy-style riding on their bison farm. Great walks and wild river swimming are easy to find and there are a variety of activities such as canoeing down the Tarn river, hiking, horse riding and visiting Templar strongholds all locally accessible.
Food & Drink
Pradine's auberge serves food in July and August (check opening-closing dates) in an ancient building with an impressive stone vault. It has a pleasant grassed terrace and there is also a small shop on site which serves fresh bread daily, basics and local produce. The village of Lanuéjols has 2 restaurant-bars called Hôtel Bel Air (00 33 4 67 82 72 78) & La Bonne Adresse, which is informal and family-run. Meyrueis is a bustling village in the summer with a weekly market, shops and wide range of cafés, restaurants and bars such as Hôtel Family (00 33 4 66 45 60 02), Hôtel du Mont Aigoual (00 33 4 66 45 65 61), which has good food and a down-to-earth atmosphere, and Le Jardin des Glaces (00 33 4 66 45 43 75), which serves up local specialities. For local restaurants, try Ferme Auberge de la Tindelle (00 33 5 65 59 18 39) and Auberge de Cadenas in the neighbouring village of Veyreau. Farms in the region rear unique brebis sheep that produce rich milk used to make Roquefort in you've guessed it Roquefort not far from Millau. Try Au Marché Paysan – Magasin de Producteurs Fermiers in Millau (00 33 5 65 61 39 35) as well as Terres d'Aigoual in the Parc des Cévennes also a cooperative of small local producers.
Site Reviews
Add Your Review
Rated ★★★★★ over 29 reviews
Fantastic campsite
I'm hesitant to write this review as I don't want anyone else finding out about this campsite! Totally beautiful area. Isolated campsite with large pitches. Wish we had stayed for longer. Lots of local wild swimming spots. Wish we were still there.
Fantastic campsite - beautiful and wild
We enjoyed everything about this campsite. The huge pitches and feeling of space are fantastic and give a feeling of wild camping but the facilities are great and useful when you want to use them. We enjoyed the restaurant, the takeaways, the communal barbecue area and the shop. George and Virginie were really helpful with suggestions and even booking activities for us. There is lots to do in the area and the scenery is stunning. We enjoyed canoeing, climbing, canyoning, the House of Vultures, the Grotte de Dargilan and swimming in many beautiful rivers. We stayed for two weeks but could easily have stayed two more and will definitely be coming back.
The best campsite in France
This is the best campsite I have ever been to. It offers everything you could want, ping pong, tennis, restaurant, takeaway meals, pool... The pitches are absoltely massive and I really do mean massive, we could not see our neighbors. The owners are extremely helpful and accommodating. For those who do not like camping, they also have number of other accommodations inculding chalets, yurts, and mant other original builds. I highly recommend that you visit this place because it is truly fantastic, I will be back without a doubt !
This is a great campsite
This is a great campsite; it is quiet, peaceful, remote, rugged and beautiful, set in the upland Causse (plateau) of the Cevenne. 
Huge site but only 20 tents- a wildlife haven yet on-site restaurant +shop and France's Darkest night skies
Having been camping in Ireland Britain and France for thirty years our stay here for a week in August proved that the right campsite beats the best hotels hands down. The site is truly like wild camping with pitches in the savannah clearing, the woods or in small isolated fields. The natural grasses mean that butterflies and crickets fill the air while there are views of distant hills and the most amazing night skies where meteorites are guaranteed on clear nights. The sites' wonderful hosts have a loan-library of information on local activities while summer weekly wine tasting and a lovely restaurant and shop which sells all basics- including local wines by the bottle - ensure guests need not leave the site. We swam in the pool at midday with no other bathers for company and spent hours just relaxing at camp enjoying the wildness, tranquility and silence. The site is off a quiet D Road and the nearest village has a boulangerie - a half hour drive takes in towns with bigger supermarkets.Good canoeing on the Tarn and Dourbie rivers are within a 40 min drive. The site is relatively isolated but therein lies its appeal- go now to experience it's beauty.
See all reviews at Domaine de Pradines
Location
Domaine de Pradines is located at Domaine de Pradines, Route de Millau, D28, 30750 Lanuéjols, Gard, France
Getting There
Pradines is 35 kms east of Millau, and 11⁄2 hours north of Montpellier, 2 hours west of Nîmes, 3 hours' drive south of Clermont-Ferrand.