Nature and trees, complete with all their lumps and bumps, well-married with exceptional family facilities
If you've ever camped in the national parks of North America, you'll already have an idea in your mind of what forest camping should be like. It's precisely such camps that Huttopia are trying to emulate – natural, untouched and simple, but with all the essential facilities for family camping. Despite being less than an hour from central Paris, Huttopia Rambouillet somehow matches precisely that criteria.
For starters the campsite is lumpy. That probably doesn't sound like a good thing at first but it's a sign that nature here is allowed to take its course. There aren't manicured lawns and pruned hedges. Instead, campers arrive and loop their way around, carefully picking the best camping pitch they can find, one where the roots aren't going to be poking through the bottom of the tent and digging into your back. It reflects the fact that trees still rule the roost here, it's up to you to work around them.
The camping pitches themselves come in various types. 'Forest Spots' are smallest, tucked in among the trees and suitable only for tents, while 'Nature Spots' are more open, less wild and suitable for campervans and caravans too. Excitingly named 'Normal Spots' offer pitches of the more regular campsite kind – grassy, open and with electrical hook-ups. Plus there is a stash of eco-friendly glamping accommodation, built from French Douglas fir wood that gives the fully-furnished interiors a wonderfully earthy aroma.
Activity-wise, the amount on offer seems slightly incongruous with the ethos of the place. After all, how can camping feel 'wild' with a swimming pool and restaurant? It's only when you discover the pool is in fact supplied entirely by natural water that the sheer ingenuity of Huttopia becomes apparent. The eco-pool has two basins: one for swimming and the other full of filtrating plants and minerals. The water's crystal clear and there's not a single chemical added.
As for everything else, there's a reception backed by friendly staff, taking orders for the next morning's bread delivery, a small grocery area selling essentials and a lounge with board games and books to borrow in case it rains. They reflect the impeccable quality of all the facilities on site, regularly cleaned and well looked after. So even while you're camping North American-style beneath the trees, you know the essentials are always within easy reach.
Gallery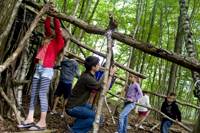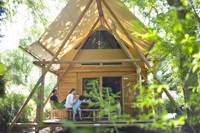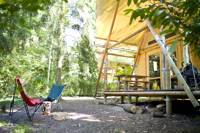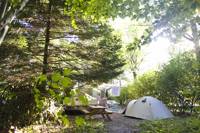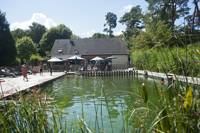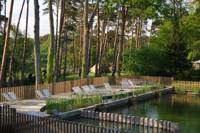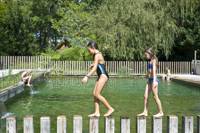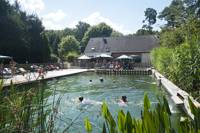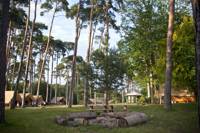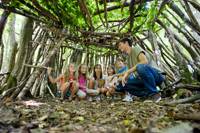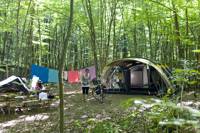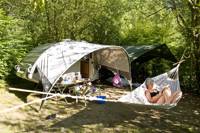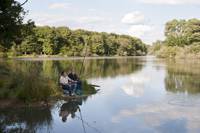 Video Tour
The Owner Says
Enjoy an unforgettable holiday escape at Huttopia Rambouillet in a remarkable forest setting that is at once close to Paris and in the heart of nature, with a beautiful natural swimming pool for you to cool off.
Reader Reviews
Add Your Review
Super pool, nice staff, basically a good idea behind this site
As this site belongs to the more expensive category of camping grounds, I would have expected cleaner wash rooms. Camping in the woods is really cool but indicates also a lot of mosquitoes... so a repellent is a MUST.... the pool is a very nice surprise after having traveled around on other camping grounds.
Best Price Guarantee, with no fees
Instant booking confirmation
Trusted for over 10 years
A chance to win £50 of Cool Camping vouchers!