Riverside camping on the banks of the Yonne by the famous Roches du Saussois cliffs – the perfect family base to explore the Burgundy region
A series of limestone cliffs loom 150ft high above the village of Merry-sur-Yonne, hugging a row of houses against the River Yonne. On summer weekends they're pimpled with the tiny bodies of rock climbers, suspended from ropes as they clamber around on the impressively irregular face. From the top the view is stunning. The river sweeps in a wide meander, a thick wodge of trees skirts its edge and, below, in the inside of the river's bend, sits a tent-speckled, family field – Camping Merry-sur-Yonne.
Climbing the famous 'Roches du Saussois' is just a small part of the attraction here. Though the cliffs may be a mere five-minute walk from your tent it's easy to get side-tracked by something else along the way – a giant outdoor chess set covers a section of the camping meadow, there's an excellent playground for kids and the pair of onsite tennis courts even come with raised umpire's chairs, so you can authoritatively wag your finger and yell the words "out!" from up on high.
The main field itself is populated by the full variety of camping types. Tents, campervans and caravans are all welcome, with electricity on just over half the pitches, while modern glamping pods and a gîte are also available to hire, if you fancy slightly plusher accommodation. Pets are welcome (there's even a dog washing point) and the English owners speak the full range of French, German, Italian, Dutch, Spanish, Portuguese and Tagalog. Everyone is made to feel welcome.
When you venture out there's plenty to be found nearby. The Bourgogne region is famous for its wine and there are several vineyards in the vicinity that offer tours and tastings – just flick through the ideas and information sheets in reception. Historic Auxerre, a 35 minute drive away, is also an excellent starting point. It's grand cathedral with famously expansive stained-glass windows and the Benedictine abbey, now a museum, both stand tall over the waterfront. Magnificent canal boats chug upstream in the direction of the campsite – it's considered one of the most beautiful inland boating areas in all of France – and you can even hire your own for a morning, afternoon or day-long excursion.
Gallery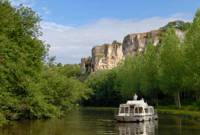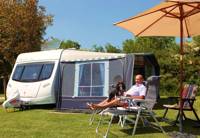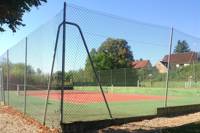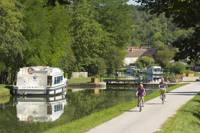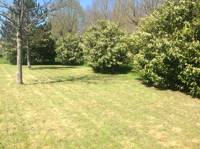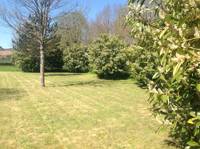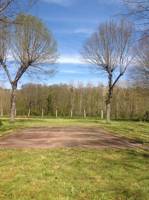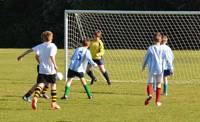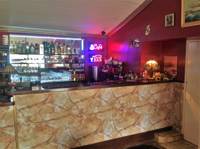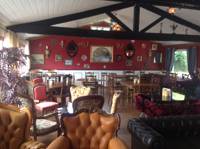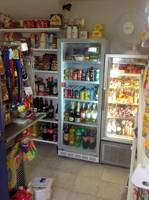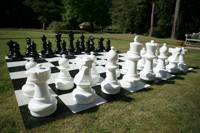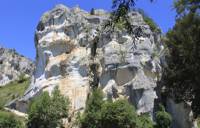 The Owner Says
Nestled at the foot of the famous Roches du Saussois rocks and on the banks of the River Yonne, this riverside family campsite in Bourgogne with excellent modern facilities, is the perfect base to explore the Burgundy region.
Reader Reviews
Add Your Review
Fantastic setting and great campsite
Location is fantastic. Set on the banks of the Yonne the campsite is the ideal base to explore, particularly by bike. We rented 2 bikes from the site. Easy to do and reasonably priced. Pitches are generous with plenty of choice. Facilities are excellent. Great shower block, kitchen with access to fridge and utensils. Plenty to keep kids occupied: tennis courts, football pitch, play area, bikes and kayaks. Fresh pastry and bread can ordered every morning. We had a pizza from the restraint on our last night that was tasty. Staff were friendly and happy to help. Would definitely return.
Relaxing and friendly campsite
Owners were really helpful, offered freshly made pastries, the children made friends with others at the campsite and cycled round. The atmosphere was lovely, the facilities great (showers, bar, shop, restaurant, bikes and kayaks).
Great little campsite
Great campsite - owners very friendly, food amazing, showers the best, beautiful spot by the river. Breakfast pastries made on site delicious - meals at the onsite restaurant excellent quality. Bikes to borrow, kayaks to borrow and tennis courts. Simply stunning. We were travelling with 2 teenagers excellent base to travel to high ropes courses, white water rafting, morvan natural park, river/lake beaches. Stunning.
Peaceful little site - and amazing showers!
We stayed two nights here in peak season in August, so it was inevitably tight for space (you get given a flag to stick in the ground and you find your own space, rather than there being measured out pitches). It's on the other side of the river from the cliffs, so they're not really 'five minutes' walk' (and there's not much to do when you get there, unless you're a rock-climber). However, it is a very quiet, well-kept, peaceful site despite being busy, and it's in a lovely tranquil spot. The hosts are a joy, and will do anything to help you, and the facilities are excellent, with just about everything thought of. We really appreciated the on-site bar, so we could grab a cold draught beer in the afternoon and a coffee in the morning. And the showers are something else. There's even piped music in the toilet block. If you want lots of space and sweeping views from your tent, it's probably not for you, but if you want a nice quiet, family-friendly site with great facilities and everything you need on your doorstep, it definitely is.
An idyllic campsite
Quiet and peaceful site on edge of a pretty village. Good-sized pitches, and excellent facilities. We swam twice a day in the spectacular stretch of river under the cliffs, canoed up river, cycled along the canal, played tennis and table tennis and ate in the excellent restaurant. Zach and his team were extremely welcoming and helpful. We'll be back!
The food !!!
Absolute gem !!! Great location,beautiful river 2 mins walk ,loads to do in the area, good zoo/ medeval fort with loads going on/ prehistoric park/ amazing horse show. On site there's a bar,games room and a stunning restaurant, the food is 5 stars , free kayaking, free tennis, pod style power showers that are hot and powerful !!! Really clean place with great hosts. A must visit campsite , thank you Zach and Dave, all round 5 stars
Simply the best - better than all the rest
Zac and David and their team really make this site special. Of course there are the en-suite units within the shower block with luxury jet showers. Then there's the wines sourced from within 30 miles of the site ( and Zac's tastings ). The food is freshly prepared and any special requirements ( including Vegan ) can be accommodated. There is a Campers kitchen, Games room, Canoes and bikes - all FREE at time of review. Absolutely loved our stay and would highly recommend. The guys really want their Campers to enjoy a stress free stay and do everything in their power to ensure that happens. Michael & Clare
A really lovely place!
What a wonderful site! The campsite has all that you could need including amazingly hot showers (best showers I have seen at a campsite!), a lovely restaurant and owners who could not be more helpful and informative. The whole place has a really relaxed and friendly atmosphere, a great little gem in a lovely rural area! Would definitely recommend and hope we are able to stop by again soon!
Friendly campsite nestled in beautiful scenic surroundings
I stayed here with my 4 children 3 of which are teenagers, 1 7 year old and my husband . The owners and staff on site were pleasant and amienable from the very start and nothing was too much trouble. The laundry room and the campers kitchen was a lovely touch and the showers were the best I have seen on a camp site . All facilities in good working order and the small well stocked shop was ideal . The food in the restaurant was lovely in particular the pizzas that the teenagers took a liking too . Will definitely be returning next year .
A bit like Fawlty Towers
A lovely campsite next to a beautiful river and canal path which is excellent for cycling in either direction. However the basics when we were there just a few weeks ago were just not what we expected. The washing machine wasn't working and half the shower/toilet block was still being refurbished, swings were broken too, and I wouldn't describe the shop as having anything useful past selling ice-cream. The French lad behind the bar was lovely but completely clueless and not helpful. I really hope that they get the facilities up to scratch but fear they will still be being completed next year given the rate (or rather lack) of work being done on them. Should have been fantastic and still could be but.........
Wonderful site
Only stayed 1 night but lovely site, very friendly owners and enjoyed walking by the river!
Sehr gastfreundlich und hilfsbereit
Fantastisch! Ein schöner, familienfreundlicher Campingplatz mit sehr freundlichem Personal. Chancen zum Kanu, Tennis spielen, Radfahrenund Klettern! Mit einem Restaurant und allgemeinem Laden geöffnet Tag und Abend.
Fantastic! A nice, family friendly campground with very friendly staff. Opportunities for canoeing, tennis, cycling and climbing! With a restaurant and general shop open day and evening.
Brilliant! Brilliant brilliant brilliant!
I stayed here for two nights on my way home. This site is superb. The owners are committed to making this an experience to enrich peoples lives and not empty their pockets which makes a refreshing change. The prices are simple and logical, there's a little shop on site which is well stocked and a great bar and cafe which serves some superb local wines. The addition of a campers kitchen is really lovely, with toaster, microwave, kettle and cooker for you to use if it's a miserable rainy day back at the tent or you turn up travelling light. The location is also very good near the river. The nearby cycle routes are nice and very flat, there's canoeing to be done on the Yonne and rock climbing on the nearby Roches du Saussois. The nearby towns of Clemency and Vezelay are beautiful. This is a great site, not to be overlooked.
Best Price Guarantee, with no fees
Instant booking confirmation
Trusted for over 10 years
A chance to win £50 of Cool Camping vouchers!