Camping La Grappe d'Or
Camping La Grappe d'or, 2 Route de Volnay, 21190 Meursault, Côte-d'Or, France









A well organised, family-friendly campsite in the Burgundy wine region with vines and vineyards in every direction you look.
Camping La Grappe d'Or is like an island in a sea of vineyards. On one side of the campsite there's a clutch of houses, a hotel and a pair of tennis courts but, beyond that, the local villages of Meursault and Monthelie are connected via roads that feel like causeways through an ocean of vines. From your tent, peep over the sheltering hedgerows and the first thing you will almost always see is a vineyard. Rows upon rows of streaky green lines stripe away into the distance.
Yes, this is the heart of the Burgundy wine region and, if you like to taste the local tipple as you camp, you've come to the right place. It feels like every other house you pass has a placard outside, naming it one winery or another. In fact, within a mile of the campsite there are, technically, over 15 different wineries, though many are small-scale business affairs and not the sort of place open for tours.
The campsite itself is well organised and well equipped. Three different wash-blocks service the hundred-odd pitches, and different tiers and hedgerows break up the space so that it doesn't feel sprawling or overcrowded. The folks at reception are warm and helpful – make sure you order bread and croissants for the regular morning delivery – and there's an outdoor swimming pool. There's even a waterslide for kids and a decent restaurant at the top of the campsite with good views of the surrounding stripes.
Despite the vineyards, which you might picture to be on steep slopes, the surrounding valley is actually relatively shallow and flat, with wooded hills in the distance. As a result, the local area is handy for family cycling and bikes are available to rent. One such route passes directly beside the campsite, though heading off on foot is just as achievable. With a wealth of good restaurants (usually linked with a vineyard) in Meursault, you can walk just 10 minutes from the campsite and find somewhere tempting to stop for a break. Then another, then another. You could be eating and drinking all day.
Gallery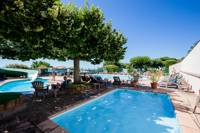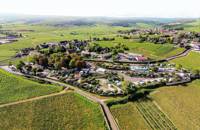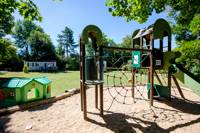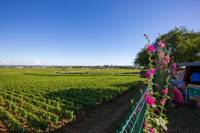 Video Tour
The Owner Says
All the team of « La Grappe d'Or » campsite welcomes you on 130 shaded pitches and 10 mobile homes for rent.From April to October come and relax and enjoy the vine filled landscape. The perfect environment to rest and relax !
Whether your stay with us is a relaxing stopover for the night or you're in Burgundy to discover the many treasures of the region, you will find tranquillity, beautiful scenery and culinary adventures. The campsite is situated on the road to Southern France, 10 minutes from the A6 motorway exit.
Our pool is open to guests of the campsite from the 18th of May to the 16th of September. 3 pools: 1 large pool – the pool water slide – The wading pool. Open all day from 10 am to 8 pm under the supervision of parents.
Reviews
Add Your Review
Picturesque Setting
The site is in a prominent position overlooking vineyards and Meursault to the south. My wife and I stayed here in September 2016 for one night stopover in our cycle camping tour of Burgundy. It was pretty busy but we found a plot by the edge overlooking vineyards and facing out east so we would catch the sunrise the next day. Though the site was not 'our type' (as we prefer minimalist campsites) it was nevertheless an excellent, though brief, rest on our circuit. All the facilities were fine (clean and no queues) as were the swimming pool and restaurant. Not sure if the image link will work: https://scontent-cdg2-1.xx.fbcdn.net/v/t31.0-8/14379601_1111251825630968_1839365924752374776_o.jpg?_nc_cat=0&oh=414ca30225a2c70ce67f710ea26401bf&oe=5C1AC0ED
Win a £100 Blacks Voucher!
If you've stayed at Camping La Grappe d'Or campsite, please take a minute to tell us about your experience. Every month, one lucky reviewer will be picked at random to win a £100 voucher, courtesy of our recommended retailer Blacks. Each review counts as one entry, so get writing!

Best Price Guarantee, with no fees
Instant booking confirmation
Trusted for 10 years
A chance to win camping goodies in our regular competitions!