La Parenthèse Camping Les Ormes
47210 St Étienne de Villeréal, Lot-et-Garonne, France















A campsite that redefines comfort with its laid-back ambience, efficient facilities and general panache
Out of Africa meets Ibiza chic in this leviathan of taste and scale. It's hard to imagine a more stylish campsite, but don't be fooled by the über-cool bar complete with shiny chrome taps and de rigueur grey tables – Les Ormes is actually as rough and ready as you want it to be. Apart from the high-luxe tents, there are 100 great tent pitches for traditional camping in shady meadow areas. Of course, you can indulge in a bit of fantasy glamping if you wish, and the site's 25 safari tents are just the ticket, each individually finished, hidden in mature groves, and perfectly set apart in order to nurture your film star fantasies. Each tent has its very own verandah, twinkling candelabra, and lavish interior that seems to jump right out of the pages of a Tatler shoot, with a chaise longue, scatter cushions, fresh flowers, retro furnishings and cool self-catering facilities, all finished off with a dash of élan. There's even a raised outdoor platform with a tent atop should your kids want to escape but which is close enough should the bogeyman come calling.
By the restaurant, on a gentle elevation, there are hammocks strung between the trees so that you can maximise the splendid views of the sunsets, which incandesce in the low-slung hills. The crowd is mid-thirties to forties, the atmosphere decidedly laid-back – perhaps something to do with the chillsome tunes wafting by, or the smell of deliciously grilled food from the gastro bar. As to facilities, there's a great deal to keep you busy and ensure you never need to leave the site. After a faux African sunrise and delicious cappuccino and breakfast in the whiter-than-heaven café, head off to the tennis court or to the pond for a spell of fishing; or maybe it's volleyball, or a wander over to the petting zoo… Now they're just showing off! And we didn't even get to the black granite swimming pool with silver bus that doubles as a snack bar.
Coolness aside, kids are in their element here, perhaps because the site is so huge; but it's secure too, so their parents are able to really relax, safe in the knowledge that if one of them tries to escape, the chances are a hundred per cent they'll be spotted by one of the many staff who drive around in beat-up, ancient Renaults. Apart from the kids' pool there are swings and climbing frames, and if they really want to go feral there's the mature elm woods – from which the place takes its name – to run wild in. There's even a kids' restaurant, where they can eat with their new buddies, undisturbed by their embarrassing parents.
Yes, if Carlsberg did campsites it would probably look something like this. Run by a pair of families who came together and took over the site in 2016, aspiring to creating a camping environment where visitors can truly take a break, La Parenthèse – Camping Les Ormes is finished to perfection. But like everything that's finished well, they make it all look so easy. Which, of course, is exactly the point.
Gallery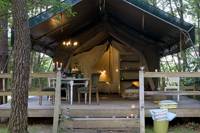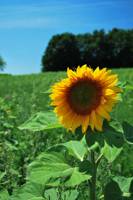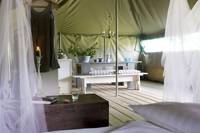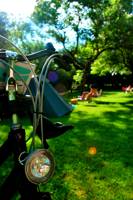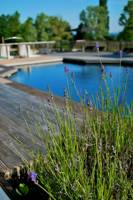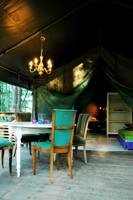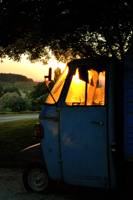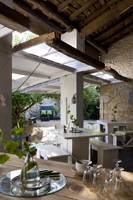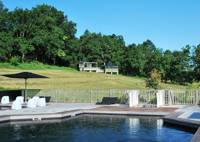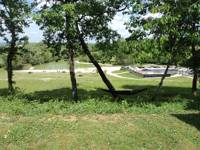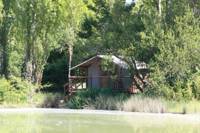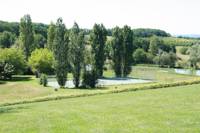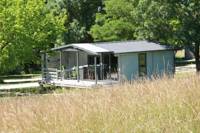 The Owner Says
At La Parenthèse – Camping Les Ormes **** which Glamping Experience (Glamorous Camping ) suits you best ?
Discover the romantic ambiance of country chic which will transport you into a world without worries – away from the daily drudge that surrounds us.
Well, for as long as your holiday lasts anyway….. The minute you arrive at this wonderful valley dotted by woodlands time lapses – you made a break, ready for your ultimate glamping experience…….
What's in a name ?
Camping Les Ormes is a lovely name for a campsite, but we wanted to add a personal touch, so we have added La Parenthèse.
Entre parenthèse, litteraly means in brackets, but the word parenthèse also means a break, a time away – breaking the daily routine.
La Parenthèse – Camping Les Ormes is situated in the northern part of the Lot et Garonne, touching the Dordogne, the ideal place to get to know the heartlands of the Périgord. Allow yourself to be charmed by this splendid area, where you will find all the good things that France has to offer. Discover the magnificent Bastides and Chateaux, taste the famous wines and enjoy some of the many local arts and crafts.
Dog  are welcome - Contact us for having more details !
Win a £100 Blacks Voucher!
If you've stayed at La Parenthèse Camping Les Ormes campsite, please take a minute to tell us about your experience. Every month, one lucky reviewer will be picked at random to win a £100 voucher, courtesy of our recommended retailer Blacks. Each review counts as one entry, so get writing!

Reviews
Add Your Review
Yippee!! NEW OWNERS bring TLC to Les Ormes
Love the new owners... two French couples that bring oodles of energy, enthusiasm, fun, ideas, investment and hard work to rejuvenate the campsite. What was perhaps becoming a bit tired in places is now fresh. As before, a great choice of camping pitch and glamping options to suit most needs and budgets. Inimitable farmhouse chic character with friendly mix of NL/FR/GB of all ages. Good, clean (and even stylish) loo/ washing block facilities. Excellent range of catering for tent take-away or eating on the (newly covered) terrace or lakeside area. Comforting feeling of safety and security (we have young and teenage children). For us, it's a small piece of heaven. If I could change one thing... in addition to the pool, it would be amazing if the lake were clean enough to use for swimming and use the sandy beach for sun-worshipping. Look forward to return visit next year.
Less great every year
This summer was our 3rd visit (with kids). There are a variety of pitches and glamping options (various pitch sizes from small to massive, sun or shade etc). We love the mostly quiet location, atmosphere, staff, stylish farmhouse courtyard restaurant/ bar area with nice Dutch style touches (from previous owner). Other campers seem likeminded and friendly regardless of nationality (mainly English, Dutch and Belgian). That's a great start, however we think the quality is slipping every year. The pool and surrounding area is quite small for the numbers (take your own sunbeds - sorted). This year one of the loo blocks was out of order, that's quite a big deal in itself and it remained this way for the 10 day duration of our stay. Another example and what seems like a minor thing was a leaking water tap near the tent, which took days to be fixed and caused the ground around the tent to become perma soggy - sounds minor, but having cold mud squish between your toes first thing in the morning is more like Scottish camping than French.  Perhaps an occasional mild smell of 'tank' if you're downwind of the one block that is still working (and over-used). Although understandable, we get the feeling that the new owner is milking returns rather than investing and that's a great shame.
Fabulous place
We searched on the web and came across this site and have been 3 years running now, planning another trip next year. Not sure that we will ever find anywhere to beat it , location brilliant, you can walk to Villereal for the night food market, day market bread etc then you can explore all the beautiful places all around, Dordogne river not too far away for a canoe trip. Travelling with families we were last time a group of 18 over several large pitches. The children are safe to run around all over, lots of families all lovely sorts, no dodgy campers just familes kids and lots of space, really lovely bar ( no nasty plastic furniture) to watch the sun go down and pool is great. Despite a 12 hr drive across France for us ( we live in France it's abig country ) we will  do it again because we love it there. 
Cool but too child orientated
My girlfriend and I stayed here last summer (2012). It's a beautiful site, we pitched next to the small lake/pond. However, we felt privacy was extremely limited as we had children constantly walking around and over our pitch catch and show us every frog the pond had! Staff were pretty friendly, though it lacked that sense of a personal touch that other campsites we had visited had. It's a hard place to relax in unfortunately as the pool and other places quickly filled up with noisy children. However the facilities were pretty good, with a retro type bar and the opportunity to fish. The restaurant was a real disappointment. We paid quite a bit to have cheap and disappointing meal. Not sure I'd go again, unless i had kids or earplugs! 
Not cool
Les Ormes has many cool elements but this campsite is the noisiest, dirtiest and most unfriendly we have ever visited. The pitches are small and packed cheek by jowl, if you have the misfortune of pitching your tent in amongst the glampers take ear plugs as these posh folk forget that they're not really in a hotel or villa but under canvas, all be it posh canvas. The pool would be cool if it was clean and big enough to serve this huge site. The bar, cafe and restaurant isn't cheap. We were disappointed by our choice and considered moving to a different site, our neighbours did and had a much quieter time of it. I would suggest revisiting this site since its take over and perhaps removing it from your book and site.
Les Ormes
My husband and I visited this campsite in June 2008 and had a wonderful time. The campsite is beautiful, pitches are spacious with the right amount shade etc. if you want it. The tents and tree houses available to hire look amazing! We would definitely like to hire one in the future although I don't think they come very cheap. The pool area was clean and had a useful little retro looking snack bar serving ice creams, drinks and sandwiches. We visited out of season but I can imagine the pool could get a little crowded during peak. There is a lake on site so take plenty of mosquito repellant! There were plenty of clean shower/toilet facilities. The main office & restuarant is situated a short walk away up a hill giving beautiful views over the rest of the site, the restaurant is by far the best I have been to on a campsite. The bar/eating area is very stylish yet relaxed & comfortable. Staff were friendly and food was excellent! Each night had a theme ie. 'fish night' and you would be served whatever 3 courses were on the menu for that night. To the front of the restaurant there are very long open air dining tables, twice a week campers were invited to dine together, the menus would be 'pot luck' but all the food we had was very tasty and it was a lovely opportunity to socialise with other campers. The restaurant also deliver freshly baked bread and croissants to your tent in the morning if you order the day before - amazing!! Next to the restaurant was a small farm, a hit with the young campers, and hammocks in the trees, a hit with anyone wishing to relax and take in the beautiful scenery. The campsite location is great if you want beautiful scenery but you definitely need a car. There were a couple of shops, a supermarket and a few restaurants in nearby Villereal but we found a better selection of restaurants in Monpazier, however the campsite was so relaxing we preferred to eat there most nights. Sarlat and Domme are definitely worth a day trip and I would highly recommend a canoe trip down the Dordogne river. We haven't found a better campsite since our visit to Les Ormes and we hope to go back again sometime soon!
Best Price Guarantee, with no fees
Instant booking confirmation
Trusted for 10 years
A chance to win camping goodies in our regular competitions!
Book campsites near La Parenthèse Camping Les Ormes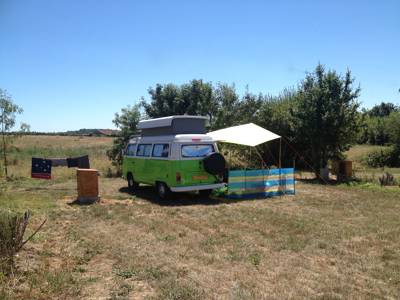 i
Campsites in Dordogne
Campsites in Aquitaine
Campsites in France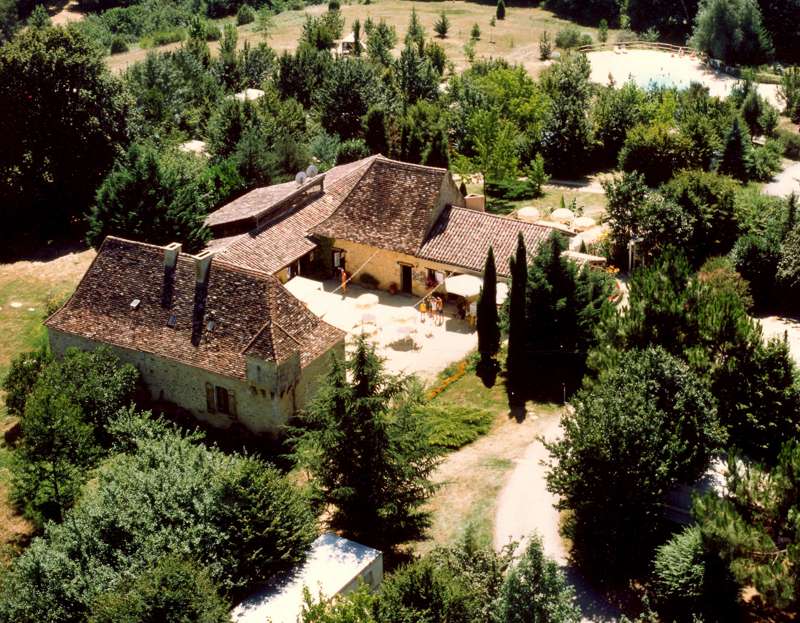 i
Campsites in Dordogne
Campsites in Aquitaine
Campsites in France
Available:
3 Pitches
2 Safari tents
1 Static Caravan