La Parenthèse Camping Les Ormes
A campsite that redefines comfort with its laid-back ambience, efficient facilities and general panache
Out of Africa meets Ibiza chic in this leviathan of taste and scale. It's hard to imagine a more stylish campsite, but don't be fooled by the über-cool bar complete with shiny chrome taps and de rigueur grey tables – Les Ormes is actually as rough and ready as you want it to be. Apart from the high-luxe tents, there are 100 great tent pitches for traditional camping in shady meadow areas. Of course, you can indulge in a bit of fantasy glamping if you wish, and the site's 25 safari tents are just the ticket, each individually finished, hidden in mature groves, and perfectly set apart in order to nurture your film star fantasies. Each tent has its very own verandah, twinkling candelabra, and lavish interior that seems to jump right out of the pages of a Tatler shoot, with a chaise longue, scatter cushions, fresh flowers, retro furnishings and cool self-catering facilities, all finished off with a dash of élan. There's even a raised outdoor platform with a tent atop should your kids want to escape but which is close enough should the bogeyman come calling.
By the restaurant, on a gentle elevation, there are hammocks strung between the trees so that you can maximise the splendid views of the sunsets, which incandesce in the low-slung hills. The crowd is mid-thirties to forties, the atmosphere decidedly laid-back – perhaps something to do with the chillsome tunes wafting by, or the smell of deliciously grilled food from the gastro bar. As to facilities, there's a great deal to keep you busy and ensure you never need to leave the site. After a faux African sunrise and delicious cappuccino and breakfast in the whiter-than-heaven café, head off to the tennis court or to the pond for a spell of fishing; or maybe it's volleyball, or a wander over to the petting zoo… Now they're just showing off! And we didn't even get to the black granite swimming pool with silver bus that doubles as a snack bar.
Coolness aside, kids are in their element here, perhaps because the site is so huge; but it's secure too, so their parents are able to really relax, safe in the knowledge that if one of them tries to escape, the chances are a hundred per cent they'll be spotted by one of the many staff who drive around in beat-up, ancient Renaults. Apart from the kids' pool there are swings and climbing frames, and if they really want to go feral there's the mature elm woods – from which the place takes its name – to run wild in. There's even a kids' restaurant, where they can eat with their new buddies, undisturbed by their embarrassing parents.
Yes, if Carlsberg did campsites it would probably look something like this. Run by a pair of families who came together and took over the site in 2016, aspiring to creating a camping environment where visitors can truly take a break, La Parenthèse – Camping Les Ormes is finished to perfection. But like everything that's finished well, they make it all look so easy. Which, of course, is exactly the point.
Gallery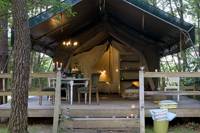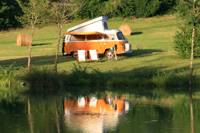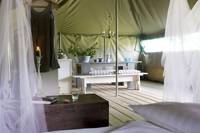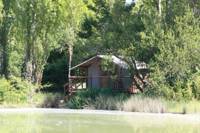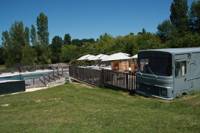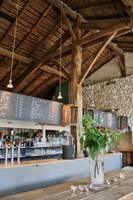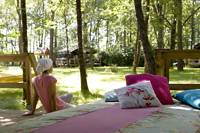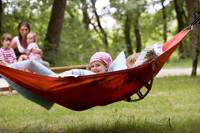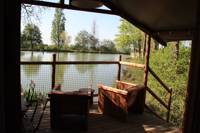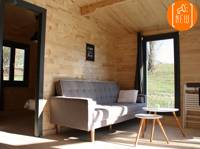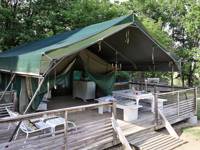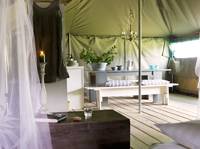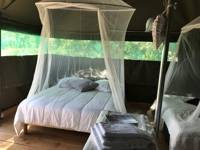 The Owner Says
At La Parenthèse – Camping Les Ormes **** which Glamping Experience (Glamorous Camping ) suits you best ?
Discover the romantic ambiance of country chic which will transport you into a world without worries – away from the daily drudge that surrounds us.
Well, for as long as your holiday lasts anyway….. The minute you arrive at this wonderful valley dotted by woodlands time lapses – you made a break, ready for your ultimate glamping experience…….
What's in a name ?
Camping Les Ormes is a lovely name for a campsite, but we wanted to add a personal touch, so we have added La Parenthèse.
Entre parenthèse, litteraly means in brackets, but the word parenthèse also means a break, a time away – breaking the daily routine.
La Parenthèse – Camping Les Ormes is situated in the northern part of the Lot et Garonne, touching the Dordogne, the ideal place to get to know the heartlands of the Périgord. Allow yourself to be charmed by this splendid area, where you will find all the good things that France has to offer. Discover the magnificent Bastides and Chateaux, taste the famous wines and enjoy some of the many local arts and crafts.
Dog  are welcome - Contact us for having more details !
Reader Reviews
Add Your Review
Absolutely perfect summer!
We stayed with our two children (5 and 8) at LaParenthèse for 5 nights in our own tent. You know, when you have certain expectations or ideas about a place based on the pictures you have seen before you arrive - I had a good feeling, but when we arrived it was even better: Such a warm welcome by Géraldine, a beautiful well-sized pitch, yummy pizza from The Hut and a lovely atmosphere on the site with a family feel to it. Everything around the campsite is well-designed, practical and très chique. For me summer holidays have to be by the sea but I did not miss it at all. The pool satisfied the need for water and cooling perfectly well. We spent a lovely evening at the restaurant with delicious food and the kids roaming around freely on the site making new friends. You can easily spend your days at the campsite without getting boared but then you must not miss exploring all these gorgeous villages close by. We will definitely come back!
Response from La Parenthèse Camping Les Ormes
Great ! many thanks for your comment. We love when our guests had a real break when the stay with us .. happy that we made the job ! See you next time with pleasure ! take care !
This is summer
We have been at La Parenthese Camping Les Ormes this June/July for the third time with our three young children. At our first visit we just needed a stopover, next time we stayed a few days longer and this time we spent our whole holidays in St. Etienne. For us, this campsite offers a perfect mixture of easygoing, new things to discover (on and outside the campside), space and charming and hospitable owners.The gorgeous and huge parcels with lots of shade are perfect, just like the pool. Thank you Geraldine, Estelle, Alban and Sebastian. See you soon! Our 3 years old daughter nailed it by saying: "This is summer!"
Response from La Parenthèse Camping Les Ormes
Thank you for your review, that's very nice of you .. we are very happy that our campsite is a little paradise for you and you daughter .. see you next time with a great pleasure. 
Best Campsite yet!
This campsite had everything we needed, suitable for everyone. The family and staff were so friendly and helpful. The toilet block was excellent and you were not restricted to pressing timed showers which was fab, large washing area and individual sinks in each cubical. The campfire nights were lovely to get to know people, were met lovely friends and all plan to visit again at the same time next year. Lovely large pitches and you could hang hammocks and your washing lines no problem. Kid club on most mornings and pony rides on site. The pool was clean and the tuck van was ideal. The top restaurant has a singer once a week and you could chill in the hammocks watching the sun setting. The "Lillet" cocktails were amazing. The pizzas and chips and bar by the lake was the icing on the cake. We loved every minute of this holiday and even extended our stay here to spend more time here and so did our new found friends, that's how good it was. We will be back. Thank you so much for having us and making us feel welcome.
Response from La Parenthèse Camping Les Ormes
What a wonderful review .. we are so happy that you had a so beautiful time with us .. it's so important for us ... thank you to share your experience with the Cool Camping surfers ! see you next time
Awesome facilities, pool area and pool so relaxing, outside restaurant nice and cool after a hot day....most of all, such friendly and helpful staff
Situated in the heart of so many cool medieval towns to explore....good base for it. Such a homely and relaxing place to return to each night after a day sightseeing places in Dordogne.
Response from La Parenthèse Camping Les Ormes
Thank you for you rnice review ! 
Definitely Cool Camping
An absolutely superb place to 'glamp'. We had a wonderful spot by the lake. Large pitch, super helpful staff and a great site. Loved the swimming pool, the beach, the food and the ambience. The shower/toilet block was kept very clean, very well decorated. Definitely a cool campsite and one we will be returning to next year. Thanks Geraldine!
Response from La Parenthèse Camping Les Ormes
Thanks a  lot Ian ! take care till next time !
Chilled
If there's a better camp site in France I would be amazed!!
Response from La Parenthèse Camping Les Ormes
Thanks a lot Andrews ! amazing comment !! 
Perfect for our little family
Go, don't hesitate to book a camping trip here. Lovely people, cool camping vides and set in one of the most beautiful areas in France. Geraldean was super helpful and we were made to feel so welcome. Camping pitches as very generous and amenities were spotlessly clean. The kids loved it to and with other families there, there was a really good balance of older and younger children that all get on and played well together. Think were heading back next year as we all loved the place and people. Thanks for brining it to our attention Cool Camping.
Response from La Parenthèse Camping Les Ormes
Thank you so much for your comment. We are very happy to read that all the family enjoy it's stay with us ! of course it will be a pleasure to welcome you next time ! friendly guests and friendly campsite, we are lucky ! 
Perfect mix of activities and calm
They have really cracked it here with the balance of plenty to do without making it overwhelming! Beautiful site, lovely pool, good mix of activities. Great casual pizzeria by the lake and lovely restaurant too. My son loved the impromptu daily football match!! A real gem of a campsite!
Response from La Parenthèse Camping Les Ormes
Great ! many thanks for your really nice review .. we love to read that you enjoyed your stay .. children and parents had a good time ! that's perfect ! see you next time then !
Hospitable cool vibe
This year, for the first time ever, we returned to the same campsite. The two families that own La Parenthese are full of energy and enthusiasm and charm. We love the choice of open pitches, the bar and restaurant. Jazzy Brunch was fabulous! Try Sebastien's burgers by the pool along with some great music. Interesting mix of fellow guests, arriving in an eclectic range of transport to camp or glamp in the safari tents. In low season it can be quiet, but of course once the schools are out it is much busier, I feel it's a wonderful place for slightly off peak season and deserves to be better patronised at this time. The area around is really worth exploring, the many Bastide towns have great markets and good restaurants. Nothing is too much trouble and we so enjoyed the company of Artiste (the elderly labrador). Au revoir Geraldine, Alban, Estelle and Sebastien. We will return next year with our granddaughter for some glamping!
Response from La Parenthèse Camping Les Ormes
Thank you so much for your nice review ..it was nice to meeting you again this year ... and hope seeing you next year with your daughter and her baby !! hope Artiste will still be with us !! he loved so much to stay with you!! many thanks for your kindness. take care of you two ! 
Yippee!! NEW OWNERS bring TLC to Les Ormes
Love the new owners... two French couples that bring oodles of energy, enthusiasm, fun, ideas, investment and hard work to rejuvenate the campsite. What was perhaps becoming a bit tired in places is now fresh. As before, a great choice of camping pitch and glamping options to suit most needs and budgets. Inimitable farmhouse chic character with friendly mix of NL/FR/GB of all ages. Good, clean (and even stylish) loo/ washing block facilities. Excellent range of catering for tent take-away or eating on the (newly covered) terrace or lakeside area. Comforting feeling of safety and security (we have young and teenage children). For us, it's a small piece of heaven. If I could change one thing... in addition to the pool, it would be amazing if the lake were clean enough to use for swimming and use the sandy beach for sun-worshipping. Look forward to return visit next year.
Best Price Guarantee, with no fees
Instant booking confirmation
Trusted for over 10 years
A chance to win £50 of Cool Camping vouchers!
Book campsites near La Parenthèse Camping Les Ormes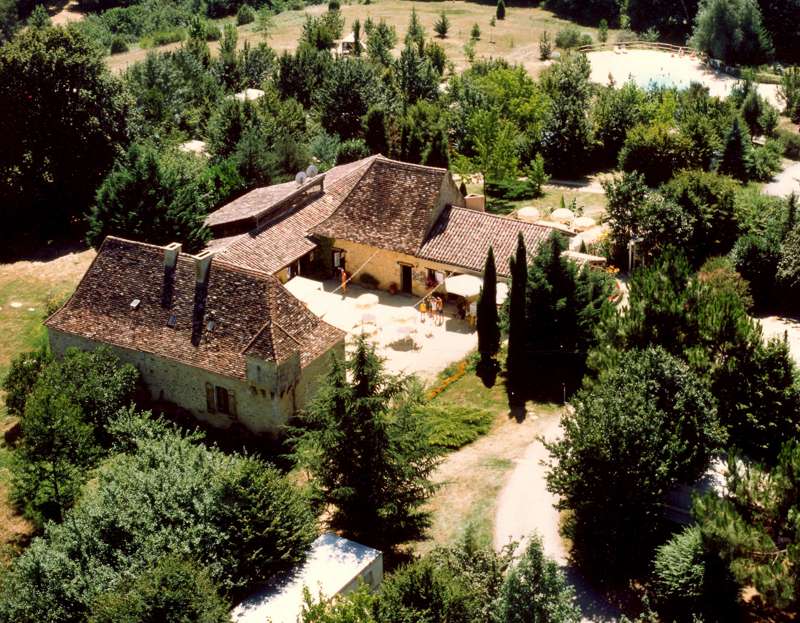 i
Campsites in Dordogne
Campsites in Aquitaine
Campsites in France
Available:
3 Pitches
1 Static Caravan
2 Safari tents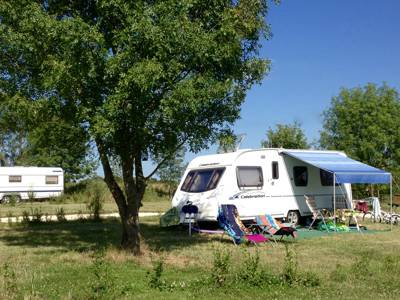 i
Campsites in Dordogne
Campsites in Aquitaine
Campsites in France