Tranquil and simple camping in the wonderfully unspoiled Dordogne countryside
With well over 250 campsites in the Dordogne to choose from, why opt for Camping Lune Sur Le Lac? For one thing, you won't find a more accommodating hosts than Jo and Ian if you tried. Maybe their happiness is because they get to enjoy this stunning and tranquil location all year round. It rarely rains here and Jo and Ian's modest, picture-postcard campsite sits elevated on a hill overlooking its own fishing lake and 69 acres, ensuring Camping Lune Sur Le Lac stands out from the regular campsite crowd.
New for 2015, Camping Lune Sur Le Lac is traditional camping as it should be: simple, unpretentious and what estate agents would call 'wonderfully appointed'. That being the case, the site is fairly minimal in terms of facilities; there are all the essentials like electric points, hot water and showers in the new ablution block, as well as laundry facilities and Wi-Fi (at a small premium). Standard pitches are generously sized at 150sqm, whilst campers can upgrade to either a 'comfort pitch' with electric and water, or a cool 'dog pitch', where your four-legged friend can wander free within a privately fenced area.
On the sightseeing front, the beautiful town of Monpazier offers several highlights. Established in 1284 by a representative of Edward I of England, Monpazier had a tempestuous time during the 16th centuries Peasant Revolts and Wars of Religion. But despite these many assaults, the town has survived remarkably unscathed, with original gates, walls and a church. Other villages worth checking out are Belvès with its yellow-gold dwellings strung across a sublime hilltop, and Villefranche-du-Périgord, with its huge covered market in the central square.
Strolling around those wonderfully charming villages and markets will be the only time during your stay here when you break into more than an amble. That's just the kind of place it is. And when you're as pretty as Camping Lune Sur Le Lac is, surrounded by lush green hills, turquoise blue lakes and fabulous food and wine, what's the rush?
Best Price Guarantee
Easy and Secure, with instant booking confirmation
Trusted for over 10 years
A chance to win a brand new Coleman tent!
Gallery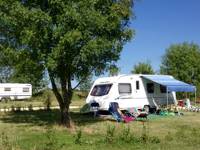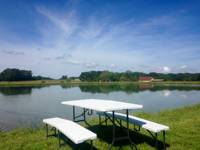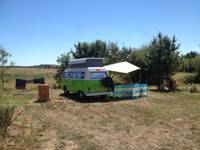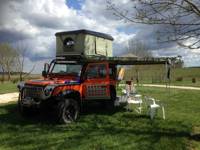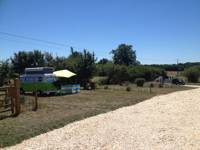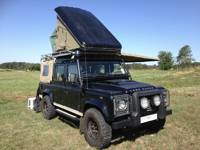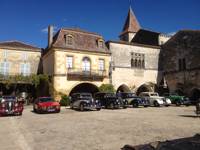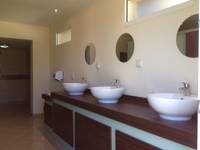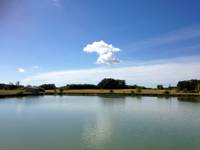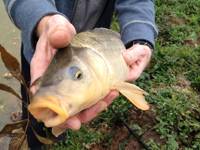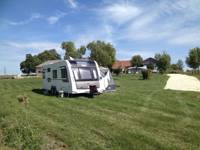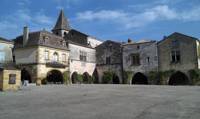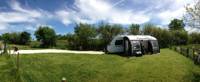 The Owner Says
This new campsite is set in the beautiful Dordogne countryside just minutes from the stunning town of Monpazier. Situated on an elevated hill overlooking its own lake and 69 acres, this is truly a tranquil spot to unwind and enjoy the weather. Whether you want to just take time out or explore this beautiful part of France, the site lends itself to both. Sunflowers, vines, good food and wine are aplenty!
Reader Reviews
Add Your Review
Beautiful and Peaceful Setting
This small campsite in the Dordogne is clearly developing well. The setting is lovely - very rural, very tranquil - the 'lake' is a real bonus. Though the grass pitches are indeed quite generous some slope quite a lot and all have thistles that are uncomfortable underfoot. The shower block is new and pretty well appointed though it does lack ventilation which can make it feel quite stuffy especially during hot weather. Pot washing facilities are basic - no light for washing after dark - they are in need of refurbishment. The reception area looks friendly though during our stay no one used it preferring to remain on their own pitches. Payment was simple despite IT gremlins. You definitely pay a premium for the setting which is very beautiful.
Relaxing stay in beautiful setting
A super little campsite. Their attention to detail is excellent. The showers are amazing; being large, with hot water and clean. You also don't have to continuously press the button to get them working which is a dream! Pitches are huge, all with electricity and water included. Each pitch also has WiFi at an additional cost. There is a communal balcony to sit at and watch the sun set and an indoor area with sofas and chairs. With great plans for the future, this is a campsite to watch, I expect it will only get better. It's worth noting that it's not the cheapest of campsites but the super showers made it worth it! We will definitely try to come back!
Try this lovely site!
We have recently returned from a 10 day stay at Camping Lune Sur le Lac, and would have no hesitation in recommending the site. Jo was extremely helpful, from the moment we made our reservation, upon arrival, and during our stay. We booked one of the enclosed 'doggie pitches' which was enormous, and had splendid views to the west for the amazing sunsets. All the pitches are of a good size, and have fantastic views, and the toilet block facilities are outstanding - you can tell a serious investment has taken place. The lake was so refreshing to swim in on the hottest days, and Monpazier is such a pretty little town for your daily shopping. What more could you want?
Little Gem!
What a find! This is a lovely friendly site that we will surely return to. The work that has gone into this site is amazing, when you see photos of what the owners took on not many would have took it on. The pitches are huge, anyone who caravans on France will be well pleased, most pitches we have been on we could practically touch the van on the next pitch! The added bonus of a huge dog crate that the owners provide so you can sight see is a great thought and the dog friendly pitches are a godsend. With regard to the last review from Adventure 16, I totally disagree with his comments, he certainly doesn't live up to his name! The lake is huge and so cooling in the summer heat and the reception wants for nothing, Keep up the good work you two, your hard work will certainly pay off. Look forward to our next visit xxx
Pitch Perfect
Having recently stayed on this campsite out of season, we proceeded to book a return visit in the Summer months. The site is like a posh CL, quiet but not too remote, just a short drive to the beautiful town Monpazier. The Shower blocks are an exceptional standard, nothing like we've seen in France before. The pitches are generous to say the least, they are all comfort, and the sunset each evening upon the lake is stunning. The owners are relaxed and welcoming and I would recommend this site. We appreciated the 'free aperitif' with the local restaurants after you meal, a very nice touch.
Not quite as expected
Jo, the owner was welcoming, friendly and helpful however we feel that they have perhaps rushed into opening when not quite ready. The toilet/shower blocks were very new and clean but our 'dog friendly' pitch @ Euro 34 per night, was disappointing. The pitch was on quite a slope and was uneven and the dried-up grass (no-bodies fault just due to weather) was full of thistles coming through - this made it difficult to walk on and unpleasant. As land owners ourselves we know this is easily addressed. The pitch was 'big dog friendly' but unfortunately our smaller dog could escape easily out of both gates due to the gradient of the slope so we ended up tethering both which wasn't as planned. The 'lake' was our biggest disappointment - a much smaller than expected, rectangular - not sure quite what ? Irrigation pit that we then saw on many farms throughout the area. We were expecting something much more natural having read the marketing. A couple who came the next day were so disappointed that they told us they wanted to leave early. Also when we asked about the kennel which is offered, as we wanted to leave our dogs safely for a few hours, we were told this wasn't available as the space was now used for storage due to lack of enquiries and although Jo offered for us to leave them in a crate which she would keep an eye on but we weren't happy to do this. On the plus side we had great weather and not many people about until later in our stay and managed a swim in the 'lake'. Monpazier was very interesting and pretty and a supermarket a few miles away but we wouldnt stay here again as felt the site doesn't live up to the very discriptive website.
Book campsites near Camping Lune Sur Le Lac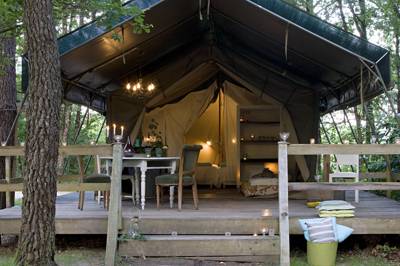 i
Campsites in Lot-et-Garonne
Campsites in Aquitaine
Campsites in France
Available:
3 Pitches
3 Cabins
1 Quirky
...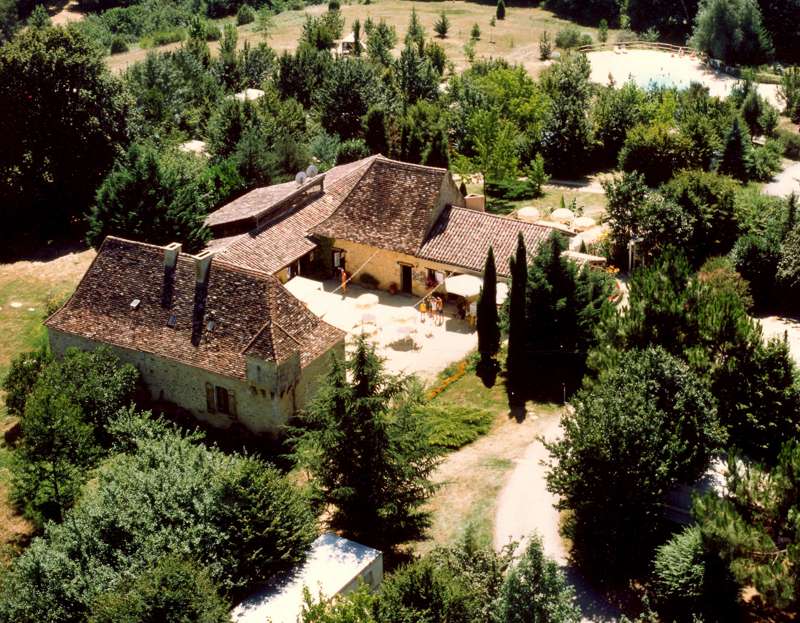 i
Campsites in Dordogne
Campsites in Aquitaine
Campsites in France
Available:
3 Pitches
2 Safari tents
1 Static Caravan