Book campsites near Camping l'Offrerie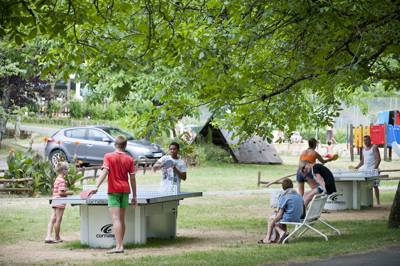 Campsites in Dordogne
Campsites in Aquitaine
Available:
4 Pitches
3 Safari tents
3 Cabins
A wonderfully rustic, uncommercial campsite surrounded bythe natural delights of the Dordogne
On the face of it there's something rather higgledy-piggledy about Camping l'Offrerie. From their website you almost get the sense you won't get any shut-eye at all – there's a swimming pool, playground and crazy golf, plus a small on-site farm with pygmy goats and rabbits. Yet the activities have a charmingly, home-made, rustic feel that sets it apart from the Euro-park sites France is well known for.
"Rustic?!", you cry – ever a term with an undertone, like a teacher's school report describing 'one of the more talkative children in class' or a home-made meal that tastes 'interesting' – but here we really mean it. The facilities are not overgrown or dilapidated, far from it, yet somehow remain refreshingly uncommercial, with a family run feel only bolstered by the enthusiasm and buoyant nature of Jessy and Baptiste, the friendly campsite owners.
The pitches themselves are spread either side of the central buildings where the couple live, with a small restaurant downstairs serving traditional local meals and dealing out freshly baked bread in the morning. Most are shaded by mature trees dotted across the site and if you come at the start of the season you can even pick the last of the seasons cherries, which hang appetisingly from the branches.
Sociable yet tranquil, Camping l'Offrerie plays host to a range of nationalities, with everyone from skimpy walkers' tents taking advantage of the Vezere valley's hiking trails, to campervan and carvanners looking for a fortnight in the sun. Perhaps most at ease are families, though, largely because of the endless games to keep little one's occupied. If that school report of the 'talkative one' is close to home then you'll find comfort in the swimming pool and trampoline that become the centre point of your holiday and leave everyone sleeping soundly when night-time falls.
Off site the natural delights of the Dordogne region and a wealth of pre-historic caves in the near vicinity provide plenty to keep you busy, though some of the most charming French scenes can be found on the doorstep. The local village of Rouffignac may have a slightly sleepy feel at times but on market days the lively bustle is not to be missed. Between the light sandy coloured houses, it provides an undiscovered sense of authentic France without a crowd of fellow British tourists jostling alongside you.
Details
Facilities
10 showers, 9 toilets, disabled access and baby changing area. Swimming pool and smaller, shallower baby pool (June–Sept.), mini-golf, a small petting farm, a children's play area, trampoline, ping-pong, volleyball and soccer field, and boules court.
Suitable For
Tents, campervans, caravans, pets, groups – yes.
Nearby
The site is 2 minutes from Rouffignac St Cernin where you'll find all the main services and shops, along with a weekly market every Friday. The village is also home to some of the most spectacular caves in the region, Les Grotte de Rouffignac (0033 5530 541 71), with ancient carvings showing man, mammoth and various other animals. The huge underground cavern has signs and tourist information so you can guide yourself around. Elsewhere, try a visit to the pretty, pedestrianised centre of Sarlat (0033 553 314 545) or take in the trails of the Vezere valley – there are over 500km of marked routes in the region. A foot walking map and a map of mountain bike trails (labeled by the FFC-ATV) are available at the campsite reception.
Food & Drink
During July and August there's freshly baked bread and croissants available onsite and you can enjoy Périgord specialities in the onsite restaurant (along with excellent pizzas). It takes just a couple of minutes to drive to Rouffignac St Cernin. There's a carrefour, for stocking up, and a cluster of small but excellent restaurants.
Opening Times
April–Oct.
Reviews
Add Your Review
Rated ★★★★★ over 2 reviews
Fortuitous find
One of those fortuitous experiences were you end up somewhere great because your other choices were fully booked. Lovely campsite with very nice owners. In a great location for seeing the surrounding area. too. I had to buy a pair of trunks for the pool, but when in Rome and all that!
Chilled out and very friendly.
Spent 10 days on this site with children in their early teens this summer and found the Cool Camping description to be spot on. Very thoughtfully organised and run while maintaining a relaxed, small and friendly feel. The location was perfect for us - up on a hill with a welcome light breeze (temperature was mid 30s), short easy cycle to the small town for provisions or an evening drink, adjacent to local mtb trails and far enough away from the busy tourist areas. Pool and sanitary block always clean and never particularly busy. There was a nice mix of nationalities, the majority being French. Although there are a lot of statics/lodges they are the more attractive type and too well screened by the trees and foliage to be noticeable. We are minimalist campers and didn't feel out of place here at all. Would highly recommend particularly to families who do not want a large, fancy corporate type of campsite but appreciate some games, activities and fuss free facilities.