A delightful campsite with 'green' status for its beautiful, riverside location in the Dordogne close to the Limousin
Never has a campsite harnessed so much power of nostalgia. Like the city image of a handsome, sun-tanned Parisian cycling around beneath the Eiffel Tour, La Chatonnière is the archetypal vision of the countryside, all parceled up into family campsite form. Picture, if you will, quintessential French camping and then get out your checklist… Send us a postcard if anything's not ticked off.
For starters there's the river, glistening in the sun as it flows languidly around long, sandy meanders, perfect for paddling, swimming and cooling off from the midday heat. Along it's edges the grass has been systematically worn down by picnic blankets and sun towels or grows in shrub-shaped patches beneath the dappled shade of trees. Then there's the fantastic number of tents, giving a real traditional feel to the place. Campervans and caravans are still very much welcomed, but the apron of grass at the very bottom of the site (where cars are not allowed) mean it's still the old-school camping clan that thrive.
It's the atmosphere, however, that's most fitting. Utterly relaxed and laid back, the place has a plethora of excellent facilities yet none of that Euro Camp feel that's become more common in recent years. There's badminton, boules and table tennis, bikes for hire and boats you can borrow to dabble about on the water, plus a small shop where they sell ice creams and deliver fresh, pre-ordered bread each morning. It's both remarkably casual yet wonderfully well organised. Precisely what you want in a campsite.
The surroundings are, in fact, all part of a designated nature reserve – Parc Naturel Regional Perigord-Limousin – an added reason why the focus here is on keeping things simple and natural rather than artificial and commercial. Even their facilities are suitably green; the toilet flush uses water from the river, the shower heating is all aided by solar panels on the roof and any leftovers from the shop? We'll they get fed to the owner's goats of course!
So with the atmosphere in top order, facilities to boot and surroundings green enough to be given 'Parc' status, it surely leaves just one more box on the checklist – a little culture française. How about a spectacularly grand, 12th-century château within easy walking distance? Big fat tick for that one.
Best Price Guarantee
Easy and Secure, with instant booking confirmation
Trusted for over 10 years
A chance to win a brand new Coleman tent!
Gallery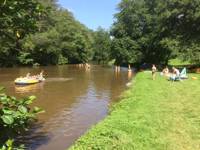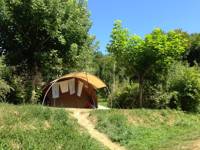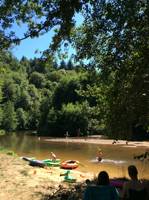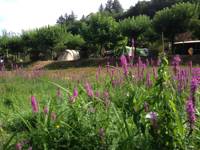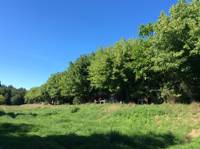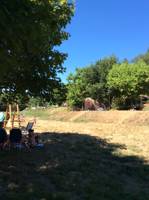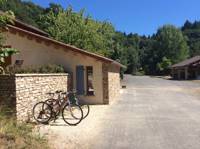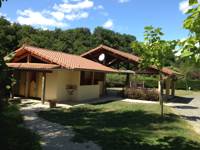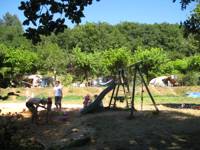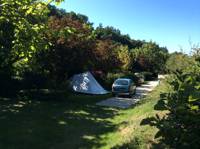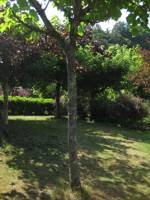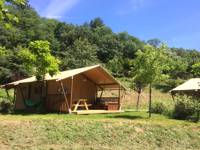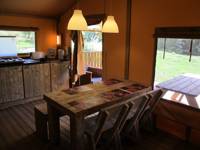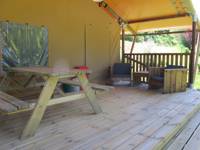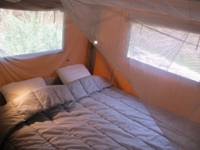 The Owner Says
The Chatonnière is a small green campsite on the banks of a little river with its own sandy beach. We rent out mobile homes, tents, safari tents and campsites. We opened in the Dordogne in 1992.
Our camp site 3 stars campsite is situated in a peaceful section of the Dordogne not far from the Limousin border. Because this area is very special concerning the landscape and nature it obtained the status of nature reserve. The name of this new nature reserve became: "Parc naturel regional Perigord-Limousin" and is well known across the country. For peace, tranquility and the chance to truly enjoy the flora and fauna of France, there are few finer places to be.
Camp site "La Chatonniere" is situated within walking distance of the village Jumilhac-le Grand (1300 residents), there you will find all the facilities such as shops for your daily groceries, a swimming pool, a horse-riding centre, a tennis court and restaurants. The impressive castle of Jumilhac-le-Grand is a part of the castle route of Richard coeur de Lion, a renowned route that takes in some of the best châteaux in all of France.
Our terraced campsite is situated in a green valley on the banks of the River Isle. On the highest terrace are the "standard" and car-free places. On the lowest terrace are the places (bellevue) with a direct view of the river and the sandy beach. The pitches are separated by bushes and, on every place, there are trees to provide shade (though there is always a sunny spot to find).
Reader Reviews
Add Your Review
A relaxing, family friendly campsite
We took a gamble and booked up for 12 nights on our first visit to La Chatonnière and the Dordogne, which really paid off as we really enjoyed living on our pitch, was on the lower terrace facing the river. Our two girls (8 and 4) spent most of the first week in the river or on the 'beach' making friends and just playing, free range. The facilities are very modern and clean, with lots of hot water, a freezer for ice blocks and frequent water points around the pitches. There is also site wide free wifi, for those who need it. Irna and Bob who own and run the site are very low key and very friendly and helpful. There is the option to order bakery goods each day, plus a small shop the sells ice creams, cold beers, wine and a few other essentials, including campingaz bottles. They also offer pizza made freshly on site, which are very good indeed. The village of Jumilhac-le-grand has a small 'supermarket, plus a boulangerie and a butchers, which are handy. There are bigger supermarkets around a 20 minute drive away. We enjoyed weeks of hot weather and sunshine and the pitches were well shaded with trees. Nearly perfect - hope to be coming back!
Soooo relaxed...
This was our third campsite on a big road trip, and we loved it! Having enjoyed a large commercial site, and a small mountain site in the weeks befor, this was a perfect chill out. Beautiful setting, quiet and friendly, helpful pleasant owners, good camping crowd. Lots of small children (so be prepared for a few audible paddies!) but our two (8 and 10) were very happy splashing in the river, cycling the loop - and playing badminton in the evening with new friends. We will definitely go back!
A lovely quiet site with excellent facilities.
the owners are lovely and friendly, try the owners burgers they are marvellous, a nice clean camp site would recommend it to anyone
Book campsites near Camping La Chatonnière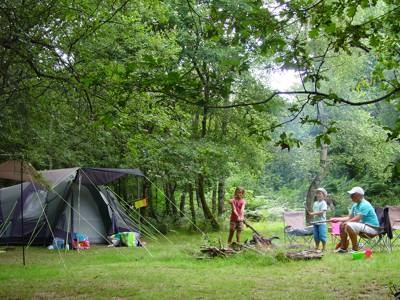 i
Campsites in Haute-Vienne
Campsites in Limousin
Campsites in France