Classic Dordogne camping with terrific valley views, a peaceful vibe, and friendly hosts
Camping Belle Vue is well named. What at first might seem like a modest-sized campsite – a mere eight pitches – soon wins you over with its intimate ambience and views over the fields to the local chateau: a grand old building crowning the village of Hautefort that was once lived in by a countess who survived a number of husbands. By night it lights up like a chandelier, and should you visit on a Wednesday evening you'll find people in period dress strutting around its ornamental lawns to the accompaniment of classical music. Sitting in the northern tip of the Dordogne, just below Limousin, Hautefort is a charmingly low-key village, with a clutch of antique shops, galleries and rustic bars.
The campsite is a rustic and comfortable oasis of calm, with just eight pitches, a couple of pre-erected tents and two rental caravans. It's well catered for with its cosy Stable Dining Room, decked out in blue-checked tablecloths and exposed brick walls, and a little shop selling basics where in the evening you can place an order for mouth-watering fresh pastries and bread to be delivered piping hot next morning. Owners Cal and Simon, originally from the UK, wanted to escape the rat race and find a slower pace of life, and they certainly did that. As well as welcoming hosts they're also great cooks and serve up delicious local dishes made with their homegrown veg. Admittedly there's not much to do, but the surrounding area has a smorgasbord of potential activities. Settle back and savour the honeysuckle perfume in the air and feel your pulse lowering by the minute.
Gallery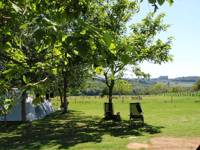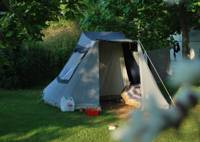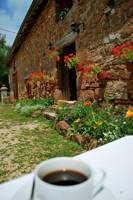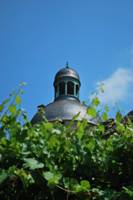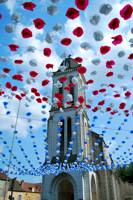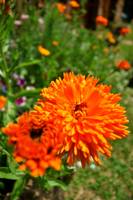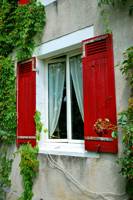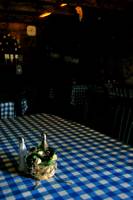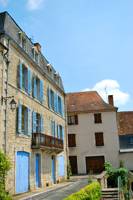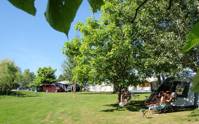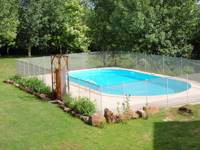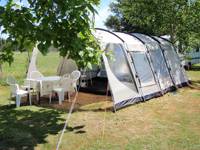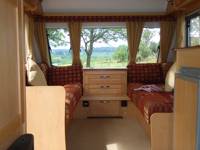 The Owner Says
Whether you're walking, cycling, horse-riding or just going for a drive, Camping Belle Vue makes an ideal base from which to explore the Périgord region. Just 3km from Hautefort, our small campsite offers a stunning and tranquil setting in which to pitch your tent or park your campervan.
Enjoy terrific valley views of Chateau Hautefort from the peaceful and tranquil campsite, complete with super friendly hosts that will welcome you on arrival and help answer any questions you may have about the local area and attractions.
Like many who return year after year, we invite you to enjoy our friendly, personal service and our exceptional campsite. Where possible we can always be flexible on arrival and departure days in July and August; so please ask for further details.
Reader Reviews
Add Your Review
Beautiful campsite, great location and facilities
Beautiful campsite with amazing view of Chateau Hautefort. Good location, just a short drive or cycle ride to the local village and the Chateau which is well worth a visit. Lots of places to visit in the locality and beautiful countryside. A small campsite with great facilities, very clean with a lovely pool. Our host Simon and Cal were very friendly, super helpful but not intrusive. We thoroughly enjoyed our visit and we will definitely be staying at Camping Belle Vue again.
The views, the tranqillity, the service ... all of it!
If you think heaven on earth doesn't exist, then take yourself to Camping Belle Vue and have your reality re-adjusted. Camping Belle Vue has everything you could desire with no catches. A handful of pitches beneath the trees with the best view in France. Superb suppers (should you want them) served in the rustic comfort of a barn, pastries and breads delivered to your tent door of a morning, and nothing to break the tranquillity apart from the birdsong. If this pastoral idyll all gets too much, then head to nearby Hautefort to sample local beers, visit the chateau or buy superb produce to make an alfresco supper outside your tent in the evening. Camping Belle Vue is something really special – peaceful yet close enough to amenities for convenience, small yet with enough space for individual privacy, offering a personal service that is never intrusive. Quite simply the best campsite we have ever visited!
Response from Camping Belle Vue
Thanks for the lovely words Kathryn and Jennifer; it was so lovely to read them and to know that you had a wonderful time and enjoyed the view, food and our service.  Then again, we have to say it is so easy, with guests like yourselves, to help you have a good time.  We very much hope to see you again in the future.
Perfect camping
We stayed for a week as a family of four with two adult kids in tow. Camping Belle Vue lived up to its great reviews. Simon and Cal have managed to find the perfect mix as hosts. The result a relaxed stay with amazing views, great location and good sized pitch, nice and quiet. With a really amazing bunch of other campers where Simon and Cal generate a friendly atmosphere with a lot of regulars who made our whole stay real fun. Thank you Simon, Cal and of course coco
Response from Camping Belle Vue
Thanks for the lovely review Georgina; we're so pleased that we lived up to expectations and it was super to meet you all and to look after you.  We thank you also for your kind words about our service, that really means a lot :)  We wish you all well and hope to see you again in the future.

Wonderful hosts, wonderful setting
There are many great things about this campsite but undoubtedly the two best things are Cal and Simon who are so lovely and welcoming. They obviously love what they have created here in this beautiful area of France and that love comes across in everything about this small, cosy site. Other great things include: Beautiful view of the nearby Chateau Hautefort Really clean pool literally a stone throw from your tent Clean toilets and showers with no queue. Delicious home cooked 4 course meal (cooked by Cal) with kids menu, served in the barn. The chickens and rabbits which my daughter adored. Would love to rerun for longer next time.
Response from Camping Belle Vue
Thanks for the very kind words Alison, we're delighted that you had a great time and it was lovely to know that you came to us upon the recommendation of some other guests that stayed with us.  It was our pleasure to look after you and the family and we hope to see you, for that longer stay, in the future.

beautiful campiste near Hautefort
We loved the fact that this was a small-ish campsite, we enjoyed the peace and quiet - perfect for spending some lazy days in the sun and by the pool. The pool was fantastic after a hot day in the sun, and was kept incredibly clean by Cal. Simon and Cal were the perfect hosts - the information Simon provided before we arrived was really helpful, the dinners cooked and served onsite were great particularly after a long day of travelling when we arrived and breakfast delivered to the tent each morning was a joy! Toilet block and washing up facilities all kept clean and lovely to use. Hautefort is a beautiful town a short drive 3/4 minute drive away - the chateau is a must see, the shops were great and there is also a large Intermarche. Nothing negative to say - we had a great, relaxing break and would love to return.
Response from Camping Belle Vue
Thanks for the lovely review "Jolly"; it really was our pleasure to look after you and also thanks so much for the very kind comments about how clean the campsite and facilities are.  We do try very hard to make life easy for guests and it's really nice to know that we succeeded on that with you and that you had a relaxing time.  We do hope you'll return as it would be lovely to see you again.

A lovely rural campsite with a great view!
We spent a lovely week at Camping Belle Vue, and it certainly qualifies as a 'Cool Camping'! Simon and Cal get top marks for being such superb hosts, laying on wonderful meals in their charming barn and making us all feel like an extended family. They both really care about their camping guests, and were always ready to answer queries and make bookings for us, as well as deliver the baguettes first thing in the morning! This is a lovely small campsite with superb views towards Hautefort and its Chateau, and in a peaceful rural setting. Hautefort is just up the road with all the facilities you could ever need, and within easy walking distance if you prefer not to use the car. Perfect for families and couples, and there is plenty to do locally including canoe trips which our boys loved. Slightly further afield there is loads to do and see, and weekly markets in all the towns. Camping Belle Vue is a gem - we'll be back! Huge thanks to Simon and Cal for giving us a lovely time.
Response from Camping Belle Vue
Thanks for the lovely review Ben, it really was our pleasure to look after you all.  We're delighted that you liked our service and the area and we very much hope to see you all again in the future. 

Fabulous, friendly campsite!
10 Simon & Cal were fabulous hosts. They were helpful and friendly. Nothing was too much trouble. Shower block and toilets were always immaculate. Pool area was great and safe for children as fully fenced. Site was perfect. Weekly quiz nights were a great way to meet fellow campers and created a fabulous community feel. If you wanted a 'night in' then the meals on site were exceptional!! Would definitely recommend and plan to visit again soon.
Response from Camping Belle Vue
Thanks very much Sarah for the very kind review; we do try and create an atmosphere where everything is made easy for guests and it's lovely that you experienced that and appreciated it.  It was great to know that you found the campsite safe for the children and it was a pleasure to look after such polite and well mannered children such as in your family.  We hope to see you al again in the future.

A magical setting
This small campsite was a haven of peace in the Perigord countryside. There was plenty of dappled shade provided by trees which the sunlight filters through, we were outside from morning until late into the evening drinking in the view of Hautefort Chateau in the distance. We explored the local area by bike- be warned there are lots of hills, luckily it's the same for us at home so we're used to it. There's plenty to see by car as well and the countryside around is stunning. If you're good at French the tourist office runs some interesting trips to local farms and food producers and also a guided walk around Hautefort. We loved our stay at Belle Vue- a simple and quiet campsite in the heart of the countryside.
Response from Camping Belle Vue
We're delighted that you found that "haven of peace" you were looking for and also that the shade came in useful !!  It's also good to know that you found plenty to do during your stay...indeed, we have many guests that return each year and always find something new to do.  We hope to see you again soon.

GREAT 2ND VISIT
Returned to this wonderful quiet small site and it felt like coming home. Everything was as it was the previous year. Love the pool, the views, the quietness and the hospitality of Cal and Simon. Lovely meal with them on first night in the barn bread etc to order for breakfast. Nothing a trouble to them and Coco the dog is lovely. Gorgeous villages and towns in the area. We will be back.
Response from Camping Belle Vue
It was, as always, a real pleasure to look after you both (and "Poppy the Caravan" of course !)  It's lovely that you felt like it was coming home as that's just what we hope to achieve here and, indeed, many returning customers, like yourselves, feel that way.  We're glad you enjoyed our service and we hope to see you both next year.

Warm welcome with a drink offered, nothing too much trouble, lovely meals cooked by Cal, beautiful views
This was about our 5/6th visit and we love it! Si and Cal are wonderful hosts, friendly and welcoming. The sanitaires are clean and even have a book swap! The villages around are beautiful, EXideuil Market is great on Thursdays, Objat on Sunday's. st Robertis a favourite village, just beautiful and quiet. The pool is just what we needed on a hot day and Cals cooking is great! We will return !
Response from Camping Belle Vue
Always a pleasure to see you both and even nicer to look after you and spoil you a little !  Being a good host is easy especially when we have guests like you and we look forward to seeing you next year.

Wonderfully peaceful site with beautiful views
We enjoyed a week of wonderful peace and quiet at Camping Belle Vue! Simon and Cal were discreet but welcoming hosts. We loved this simple site close to the beautiful village and Chateaux of Hautefort. Toilets and showers were kept very clean. The pitches are gently divided by beautiful trees and the site is situated in beautiful, quiet countryside. We had optimistically thought the pool would be available but aparently the weather had not been hot enough...so be aware that it may not be open at end of May....otherwise we had a wonderful stay!
Response from Camping Belle Vue
Thanks for the review Vanessa; we're delighted that we hit the right mark for you as far as being hosts was concerned.  We do work very hard to keep everything "tip top" and thanks for appreciating that with your kind words about the shower block.  Indeed, the pool opening does all depend on the weather which is, obviously, beyond our control, but we're glad you had a super time anyway.

A truly relaxing site.
Cal and Simon work hard to provide their guests with a relaxing visit and take a real personal interest in any problems that may arise. Delivery of bread and croissant to the tent works very well and we had a fabulous meal cooked by Cal ( starter by Simon ) and a bottle of good local wine. As has been commented by others, they manage to keep the balance between ensuring that you get the most from your stay, without being ever present. This site has wonderful views across to the chateau and we found it a great week to sit and read and let the world go by. Facilities seem to be cleaned several times per day and were immaculate whenever we used them. It is small enough to be intimate and we chatted to all the other campers, but the pitches are positioned for real privacy.
Response from Camping Belle Vue
It was really easy to look after you both as you were such lovely guests and we thank you for your kind words about our service and hospitality...we try our very best to make things easy for guests !  It was lovely to know that you had a good time exploring the area.  Thanks also for the kind words about the cleanliness of the campsite, that was lovely to read. We hope to see you both again in the future.

One of the best sites we stayed in on our tour of south west France
We stayed at Belle Vue in July. The camp site is lovely , its quite small but each pitch is large and the views of the Chateaux at Hautefort amazing. Simon and Cal are great hosts. Cal cooked us a lovely dinner which we ate in the old barn . Everything is very clean and I had the pool to myself most evenings! The area is ridiculously beautiful and we hired Kayaks one day and leisurely drifted past Chateaux and then got picked up and driven back upstream. Very civilised. Most people go back year after year and I can see why.
Beautiful peaceful campsite
Lovely personal welcome from the Simon and Cal, great grassy pitch, lovely evening meals and super area. We stayed in 5 campsites on this trip and this was by far our favourite. We will definitely go again and recommend it to everyone. The surrounding area is beautiful, with plenty to do with children and lovely markets to visit.
Amazing hosts and an amazing site.
Firstly, never have we been welcomed to a campsite by two more amazing hosts, Simon and Cal make you feel welcome and at home from the moment you arrive, come to think of it they make you feel that way before you arrive with there excellent communication and helpful Pre arrival advice. The site itself is small but beautiful with excellent facilities. We took the option of dinner and I have to say if you're staying here it's an option well worth taking. We awoke to the sound of cows on the field next door and bird song, it's an idillic place, especially when Simon arrives back from the local bakers with breakfast and delivers it to your door. We only stayed the one night on our way through France but I'd definitely return to this beautiful region and this lovely site in the future.
Joanne and Dan
We can't recommend this campsite highly enough. Simon & Cal were fantastic hosts and the location is just beautiful. We will definitely be back again. Thank you so much for an amazing time here !

Fantastic site
Really loved the personal touch, breakfast delivered to the tent etc. Very welcoming, well maintained. We have had a fantastic and relaxing time. Thank you.
Peaceful Retreat
Loved the meal served in the barn, delicious and a lovely setting. A lovely warm welcome, fabulous views, a nice laissez-faire vibe, great to have the pool. Perfect location for peaceful country bike-rides.
We wanted peace and tranquility and we found it at Belle Vue
If you would like to wake up to the sounds of birds singing and cows munching on their lush grass in the neighbouring field, then this is the place to stay.A lovely peaceful setting with very clean showers and loos were our criteria when first searching for a camping base in the Dordogne.Camping Belle Vue met our expectations and then exceeded them so much that we have had two wonderful stays in our trusty(?) VW campervan.The naturalness and beauty of the area coupled with Simon and Cal's hosting skills are a winning combination.The starry night skies are stunning as are the fresh pastries,croissants, and baguettes delivered each morning (If required ).We drove out each day and explored beautiful medieval villages, stunning chateaux and found gorgeous stretches of rivers to picnic by.A perfect place for a relaxing holiday.
Great campsite with the right balance between helpful and unintrusive
Simon & Cal have got the balance just right between friendly and intrusive. You work very hard to welcome us and your enthusiasm and passion shines through. Thank you for providing a space for us to "stop" - a rare moment in a busy world.
Lovely, small campsite with fantastic views
Four of us (2 adults & 2 children aged 8&9) spent 8 nights here in Aug 2016 using the well equipped 6 berth tent they provide. We were a little anxious that the site would be more suitable for couples rather than families, however our fears were unfounded and we had a great time. The pool was available from 10:00 to 19:00 for children, a couple of hours longer in the evening for adults and was the main entertainment on site for the children. There is an open area that could be used for football; plenty of opportunity to enjoy the local wildlife (eg the neighbour's chickens, cockerel and rabbits; listen out for the owls; watch the bats) and view of the stars. There are plenty of activities and attractions in the area. On most days, we chose to travel about an hour (each way) to tourist attractions. Sometimes there was a similar activity closer (eg canoeing), however we thought the more distant version would be more suitable for our family's needs. Simon and Cal were great hosts, helpful in every way and really wanted us to have a good stay. We had a super holiday and would certainly recommend the site to others.
Friendly campsite with wonderful view
We camped here for 18 nights in August 2015 with our two boys aged 9 and 11, and were looked after superbly by Simon and Cal. We loved the view of the chateau, and found so much to do that we didn't manage to fit in all the local sights and activities. The campsite is clean and well maintained, and Simon and Cal provided plenty of help, advice, maps and books. We had dinner three times in the on-site 'barn' restaurant and each time the food was absolutely delicious and the weekly themed evenings were good fun. What struck me most about this campsite was that almost every resident was a return visitor, some returning year after year. By the time we left, we could see why, and we shall be back too one day! We were looking for a remote, low key campsite with lovely views and clean facilities, and we found exactly that.

Superb
Simon and Cal make a wonderful team, ensuring all guests are looked after, fed, watered and wined! The site is in a beautiful location and has all the facilities needed to create a relaxing and comfortable stay. This was our first visit (Aug 2015) but we'll definitely be back. If you are looking for a friendly, secure and relaxing holiday, with great access to the many local points of interest, we would suggest you seriously consider this site

Wonderful campsite
We stayed here for 8 nights in June. Lovely pitch with a wonderful view. Excellent facilities. Super food provided by Cal and great fun and humour provided by ' front of house' Simon. We will definitely return.
Lovely and relaxing
Had a lovely stay here back in September.  Simon and Cal made us feel very welcome without being overpowering like some campsite owners can be.  Enjoyed a delicious 4 course meal cooked by Cal on our first night (highly recommend to save you cooking when you first arrive!) and fresh bread, croissants etc delivered to your tent, or in our case van, was a lovely touch.  Pretty views across to the local chateau from your pitch and plenty to do nearby.  Lovely small site, was perfect for us as a couple wanting a quiet, relaxing break.  We hope to be back again someday!
Our favourite Cool Camping site so far
This really is a gem of a camp site. Close to Hautefort with its own spotlessly kept pool this site is one we'll certainly be returning to. Cal's cooking means you can enjoy quality restaurant food just metres away from your tent, while Simon delivers fresh bread and croissants to your tent in the morning in a gingham lined basket. If you like small sites this is certainly one to try.

peace and quiet
This is a very quiet and grown up camp site favoured, when we were there, by older couples in caravans from the Netherlands and the UK. The peaceful atmosphere is maintained by strict rules about pool use (no splashing/jumping etc), no fires and the fact that there is very little to do but enjoy the shade of the trees and glimpses of the stunning chateau. Simon and Cal keep the facilities spotless if a little too covered in rules and notices! Meals in the barn are intimate and sociable although 'restaurant' is overstating it. Nearby Hautefort has some lovely restaurants with very reasonable set menus. The location is great with loads to do nearby if you have a car. The perfect site for those looking to enjoy a good book. Not ideal if you are looking for playmates for the kids or communal fun and games. The hired tent was fine but a little shabby and could have done with a waterproof groundsheet and fresher bedding.
Best Price Guarantee, with no fees
Instant booking confirmation
Trusted for over 10 years
A chance to win £50 of Cool Camping vouchers!