Large site with separate campingarea on the banks of the Saalach in Austria'sSalzburgerland
They say size isn't everything, but as any actress would surely say to any bishop: it can certainly help. Park Grubhof is a particularly well-endowed campsite, located in the Salzburgerland region of Austria.
Set in the former gardens of an ancient castle, it boasts over 10 acres, and is centred around a huge meadow full of alpine flowers during summer, creating a natural feel that's echoed through the chestnut trees lining the Saalach.
When you enter the site and see the broad boulevards lined with caravans and mobile homes, you may wonder why on earth you've come to Park Grubhof at all. The reason is the capacious field that's set apart from the motorhome area; it runs right down to the river and is dedicated solely to tenters. The field offers spectacular views to the Loferer Steinberge range. You can listen to the gentle splashing of the river or watch the sun going down between the Breithorn and the Loferer Alm. For wet-weather days there's even a large hut, where you can relax until the weather improves.
But that's not the only reason. Despite being one of the 'big boys' of Austrian camping, Park Grubhof does not rest on its laurels. It's excellently managed by Robert Stainer and his staff, working tirelessly to create a communal atmosphere and look after the needs of their guests.
The facilities are quite superb, especially the shower blocks. The latest block, built relatively recently, is nothing short of spectacular: a light-filled, loo-lover's dream featuring brushed aluminium and pine-wood interiors, glass-walled showers, a babychanging room, hairdryers and even a dry room for wet canoeists.
Whilst most campers head for the aforementioned meadow, you can also pitch in most of the site's other sections. Apart from the main boulevards there are pitches all along the riverside, subtly divided into family- and dog-friendly/-free areas. From these riverside spots you can really get a back-to-nature vibe – especially when you lie back and admire the fantastic mountain scenery surrounding the site.
The Loferer and Leoganger Steinberge mountains are one of the smaller groups in this Alp range, but what they lack in size they make up for in clout. The walks here can be steep, hard-going, and not for the faint-hearted, but they pay back multifold in terms of view – Birnhorn, at 2,634 metres, is the highest and has a 1,500-metre vertical south face, which threatens to flummox all but the most dedicated peak-baggers.
Slightly easier to explore are the region's villages and towns. St Martin (about ½ mile/ 1 km) and Lofer (just over 1 mile/2 km), both quintessentially quiet Salzburgerland towns, are quaint enough, but further afield things get more interesting. You can cycle along the 202-mile (325-km) Tauernradweg, which runs from Krimml, site of the famous waterfalls, to Passau. Salzburg itself is only 25 miles (40 km) away, whilst the fabulous Grossglockner road can be reached in 1 hour (37 miles/60 km). Or you can just jump into the Saalach with your kayak.
Just over the German border is Bad Reichenhall, a friendly Bavarian spa town that serves as an entry point to the Berchtesgadener Land – one of the most beautiful areas in Germany and home to Hitler's notorious Eagle's Nest retreat. Yes, it's true, Grubhof might be one of Austria's camping 'big boys', but it's the kind of site that will still respect you in the morning.
Best Price Guarantee
Easy and Secure, with instant booking confirmation
Trusted for over 10 years
A chance to win a brand new Coleman tent!
Gallery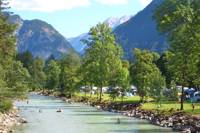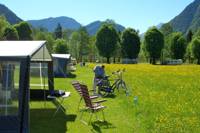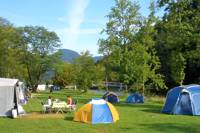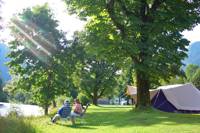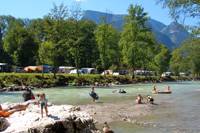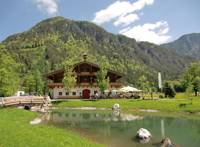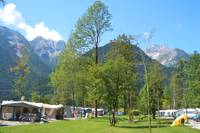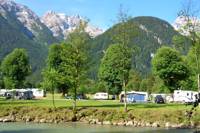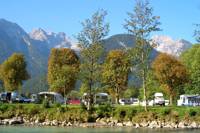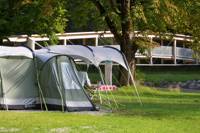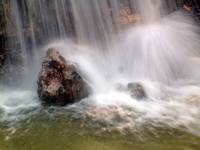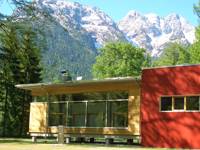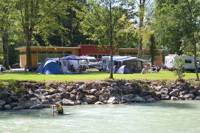 Reader Reviews
Add Your Review
Stunning
We stayed here for a glorious week. It's a beautiful campsite. Even when it's full, it never feels crowded. A beautiful alpine river runs right through the site, and there are countless trails and cycle paths heading into the moutains. Perfect, immaculate facilities, incredibly clean.