Capricorn Campers
Tuttington, Norwich, Norfolk
From compact campervans to family motorhomes with all mod-cons, this Norfolk-based hire company has something for everyone.
It was travelling around New Zealand that the James and Kelly, the founders of Capricorn Campers in Norfolk, really got the campervan bug. The freedom of the open road, the ease of parking up, switching off and making the place your compact home. Years on, they turned their motorhoming minds back to the UK and dreamt of a way they could turn their passion into a business. And thus, from the mountains of New Zealand to the flat, North Norfolk countryside, Capricorn Campers was born.
Today, comprised of a fleet that ranges from the small and speedy to the full-sized home from home, Capricorn Campers is Norfolk's go-to campervan hire company. A set of core principals ensure their fleet is always up to the very highest standards. Every vehicle is less than two years old, for example – so expect the latest shower systems, beds that lower electronically, USB ports, bluetooth connections and all mod-cons – while fully comprehensive insurance and road-side assistance come as standard. To make life easier, by driving any Capricorn Campers vehicle, you'll also instantly become a temporary member of the Camping and Caravanning Club, resulting in up to a 30% discount off camping fees across the country.
While Capricorn Campers is based in Norfolk, convenient links allow for drop-off and collection points across the South East of England. A few minutes south of Gatwick Airport, international travellers can pick up vans when they arrive off the plane, while in Ebbsfleet, Kent, a pick-up point makes a convenient collection place for those en-route to Dover. So, whether it's a ferry to France or a ramble around the Norfolk Broads, you'll not just find a van, but also a pick-up location, to suit your needs.
Gallery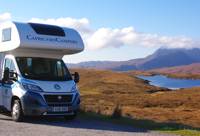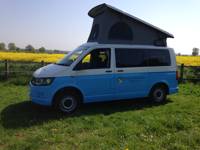 Video Tour
Reader Reviews
Add Your Review
Took a Capricorn Camper to the Lake District & loved it!!!
I hired one of the Planet+ motorhomes from Capricorn Campers for a long weekend last weekend. Really happy with the experience. I had a comprehensive intro from James at their collection depot in Norfolk, who talked me through all the essentials (I'd never hired a motorhome before) and was very impressed with the interior of the motorhome! It had 2018 plates, so was pretty much brand spanking new, and had everything inside: kitchen, toilet/shower room, table and comfy seating, a TV and the bed is electronic (it lowers from the ceiling with a little ladder you can use to hop in). Very cool. I drove to the Lakes and back happily, and around all the country lanes up there, and it wasn't scary to drive. Heating worked really well, hot water heated up quickly and there was a decent sized water storage tank, so we could stop on the way to and from the Lakes without needing to stay in a campsite. All-round happy customer. I would recommend Capricorn Campers to anyone. Particularly good for me as I am located quite nearby in Norfolk, but James told me they do collections in Kent too. Also dog-friendly!! 🐶 Thanks
Book campsites near Capricorn Campers